Tonganoxie High's Thompson to cheer at Highland
CC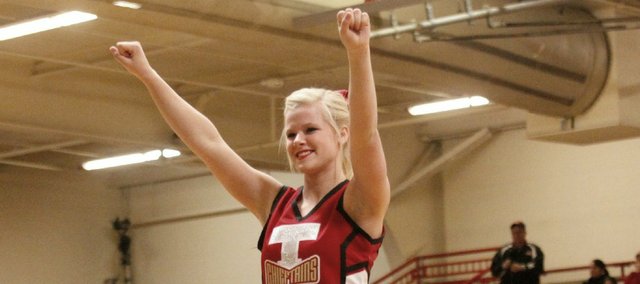 Ever since taking up tumbling at age 3, performing choreographed routines has been a big part of Allison Thompson's life.
Now a senior at Tonganoxie High, Thompson has spent recent years earning a long list of awards and accolades as a member of the Chieftain cheer squad. She'll hang up her red and white uniform when she graduates in May, but her time in the spotlight won't soon come to an end.
Last week, Thompson signed a national letter of intent to cheer at Highland Community College.
"I wanted somewhere not too far away, and they had what I wanted to study," said Thompson, who plans to major in dental hygiene. "Their cheer coach contacted me. She was really interested and I was really interested, so I tried out."
One of three THS captains alongside Marissa Martin and Jessa Thorne, Thompson has taken on an extended workload in her senior season. Captains are responsible for choreographing routines performed at football and basketball games, as well as relaying messages from coaches to other squad members. They also handle regular in-season duties, such as deciding which uniforms will be worn for each game.
The season extends well beyond the football field and basketball court, as the squad participates in a camp each summer. This past June, the Chieftains took first overall, first in varsity sideline championship and home routine. Additionally, Thompson was one of two THS cheerleaders to earn All-America honors. As a result, she and Haley Sparks got to perform in the Macy's Thanksgiving Day Parade in New York.
"(Thompson) is a very positive young lady, and she's just taken it in stride this year," THS coach Stacy McElderry said. "She's a very hard worker, a great tumbler and a great cheerleader."
McElderry said THS will participate in another cheer competition this month in Baldwin. In November, Thompson and the Chieftains also collected toys for children in the pediatrics unit at the Kansas University Medical Center. They distributed the toys in December.
When she's not cheering on THS sports teams, Thompson performs with groups at Studio Chanel in Tonganoxie. Most recently, she helped the Diamonds win the 18-and-under division and an overall grand championship at the Kansas City Christmas Celebration. The group will perform March 28-30 at the Amazing Championship in Hollywood, Calif.
"It's all year. It's not just one season," Thompson said.
Thompson has yet to meet most of her new cheer family at Highland, as her tryout was conducted in a one-on-one format with coach Kelly Twombly. She said she plans to attend an upcoming basketball game and meet members of the current HCC squad.