Tonganoxie Phil: Early spring is on its way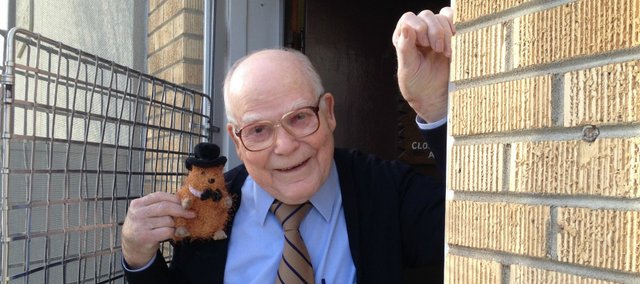 Longtime physician by day, weather prognosticator by morning.
Dr. Phil Stevens has been practicing medicine at the same office in downtown Tonganoxie for more than 58 years.
But for about the last 20, he's also been predicting the weather.
A Kansas City radio station sought out Stevens to become Tonganoxie Phil, a local answer to Punxsutawney Phil, the celebrity groundhog from Pennsylvania.
The radio station called up Stevens on Groundhog Day for about five years. After that, The Mirror started checking on Tonganoxie Phil's predictions each February.
"I used to have to come down and open up the office at dawn and talk to them at the radio station," Stevens said. "They put me on the air."
Asked how often he's been right on predicting the weather, Tonganoxie Phil had a reply that's hard to argue.
"I'm batting about .500, which is better than George Brett did," he said.
Local residents likely are hoping Tonganoxie Phil smacks his latest swing into spring training.
He walked outside Sunday morning. Unlike a prominent Pennsylvania groundhog, Tonganoxie Phil saw no shadow.
"That means we're destined for an early spring," he said. "The only thing good you can say about February is it's short."
He said spring can't come soon enough.
Stevens, who is 86, has seen several cases of the flu, bronchitis and a few cases of pneumonia the last two weeks.
"There's a lot of respiratory stuff going around," Stevens said.
Long before predicting the weather, he was following in the footsteps of his father, Delos Stevens, who served as a country doctor in Oskaloosa for several years. Delos graduated from Washburn University "102 years ago," Stevens said. Kansas University and Washburn both had medical schools at the time, but his father picked Washburn "because they had a better football team."
Phil Stevens, however, went to medical school at KU and then found office space in Tonganoxie for his practice.
Delos Stevens had been practicing medicine for 43 years when he died Sept. 8, 1955, Phil's 28th birthday, from a massive stroke.
From 1955-63, Phil delivered 250 babies, their photos adorning a wall in one his of his patient rooms. At that time, he was the only doctor between Lawrence and Leavenworth.
He's provided plenty of medical care since then and offered advice along the way.
Since taking on the persona of Tonganoxie Phil, patients not only seek his weather forecast predictions — they also ask about politics and seek counsel on investments.
He predicted six more weeks of winter last year — he was spot on and then some. Still, though Tonganoxie Phil loves to follow the weather, he admits he's no storm chaser.
"Oh, no, I'd turn the other way. I headed for the basement," he said, recalling the 2000 tornado that caused considerable damage in Tonganoxie.
Soon enough, Tonganoxie Phil hopes to peek outside and see some favorable spring weather — and field more weather inquiries.
"I think more people know me for my groundhog expertise than my medical expertise," he said with a laugh.