Face to Face: Tonganoxie Mayor Jason Ward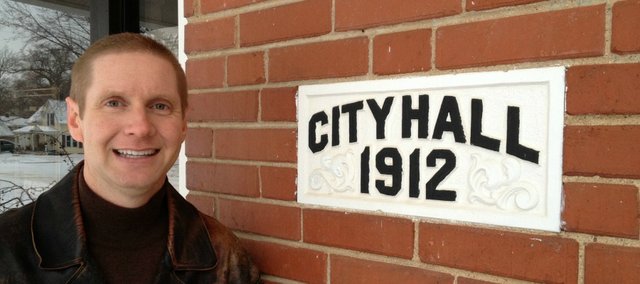 Name: Jason Ward
Born: Ward was born in Kansas City, Mo., grew up in Roland Park and graduated from Shawnee Mission South High School.
Family: Ward and his wife, Amy, have three large dogs: Hank, Gibson and Chase. He also enjoys having other family members living in Tonganoxie and attending school and sporting events of nieces and nephews.
Occupation: Ward, who serves as Tonganoxie mayor, is an attorney specializing in product liability litigation with Shook, Hardy and Bacon.
Dream job as a child: The Tonganoxie mayor wanted to have his own landscape company. His family had many a green thumb.
"I took a lot of botany classes when I was in college," Ward said, noting that he also worked for a landscape company while in college.
Digging deeper: Ward, a left-handed pitcher (the knuckle curve was his best pitch), played baseball at Washburn University, where he earned a bachelor's degree in biology. He also picked up summer classes at Kansas University and earned his law degree from WU.
Ward has his lived in Tonganoxie about 10 years.
His love for landscaping shined through when planning for a new home.
"Before the house was even built, we had the landscaping planned out and ready to go," Ward said.
It's an extension of his landscaping days.
"I loved going in and giving someone a whole new picture of their home and explaining to them what it could look like and making it happen."
Ward also likes to golf and fish. And, he raises orchids from around the world.
"Fishing and the outdoors is really my escape," he said.
Ward got interested in law because of environmental law. He does have a few cases in that area each year, he said.
Ward has served on the City Council since 2003 and has been mayor since 2009. He said he has learned a great deal during that time and has high expectations for the city.
"I guess the one thing that I think people need to remember is that Tonganoxie is special," he said. "It is a special place. We have such a tremendous opportunity to do great things with our city."