Tonganoxie, Basehor-Linwood and McLouth folks: Join in our Snowcial Media Challenge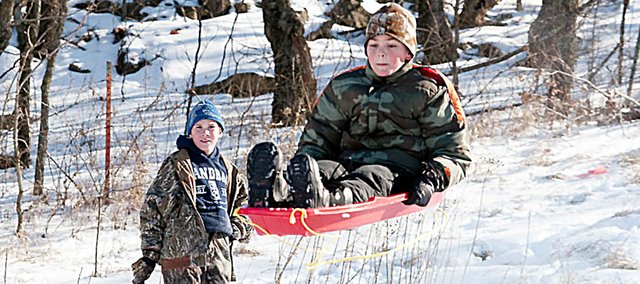 Is all of this winter weather making you long for spring?
We have a suggestion: embrace it and join our Snowcial Media Challenge.
The Mirror of Tonganoxie and the Basehor Sentinel are teaming up for a little friendly snowball fight of sorts — and a check of who has the most team spirit.
Here's what you can do:
• When you get a chance, get out in the snow and have some fun. Be sure to dress warmly!
• Capture photos of that fun and post them on our social media sites.
• For Facebook, "like" our pages (facebook.com/TonganoxieMirror and facebook.com/thebasehorsentinel) and post your photos.
• For Twitter, give us a follow at @tonganoxie or @BasehorSentinel.
• We'll be looking for the best photos in four categories: Forts, sledding, snowman and winter wonderland (winter scenes).
• For Facebook, post your photos on our pages and make mention of your category when you submit.
• For Twitter, post the photo, mention us (@tonganoxie or @BasehorSentinel) and a hashtag for your category: #forts, #sledding, #snowman and #winterwonderland.
You also can represent your hometown team. For Basehor-Linwood, mention @blhsathletics, for McLouth, mention @McLouthBulldogs and for Tonganoxie, mention @TonganoxieHigh.
• To "vote" for a photo, give your favorite photos a "like" on our Facebook pages or "favorite" them on Twitter.
• Folks who would rather email photos to us can send Tonganoxie and McLouth photos to slinenberger@theworldco.info and Basehor and Linwood photos to nroesler@ljworld.com. Be sure to include your category in the email's subject line.
We know the snow might not be in the best form for snowmen (or snowpeople or snow creatures) or forts just yet, so we're giving you some time to work on this challenge. Submit your photos through Sunday. We'll take a final vote tally starting at 9 a.m. next Thursday.
So get to it. You now have your snow day(s) assignments.
Oh, and go Chieftains, Bulldogs and Bobcats!