Tonganoxie resident creates Black History Month exhibit at
THS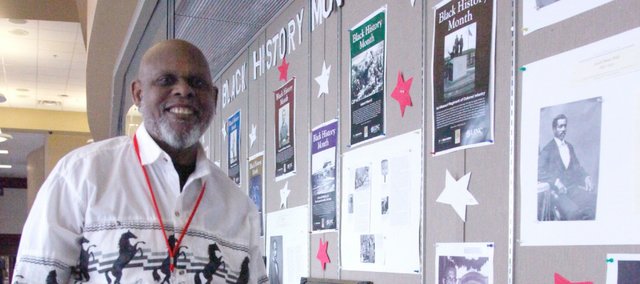 Tonganoxie High School students file through the halls at the end of the school day, ready to disperse to other activities.
A few stop outside the Tonganoxie Performing Arts Center.
A display has caught their eyes.
Lou Johnson, who works as a substitute custodian in the school district, recently chatted with school officials about constructing a Black History Month exhibit in the display case outside the performing arts center.
School officials gave the project their blessing and Johnson got to work.
Retired from years of working in security for United Missouri Bank after years of work in early childhood education, Johnson has an extensive collection of black art and other memorabilia and historical items.
At one time, he headed to New York to help a friend at a black art gallery in the Bronx. That experience inspired him to a black art gallery in Kansas City, Mo.
A canvas painting of the Underground Railroad and a portrait of President Barack Obama and Martin Luther King Jr. sitting side by side are two pieces from his collection currently on display at THS.
Johnson said he especially likes the portrait of Obama and King that his friend created. The black-and-white portrait fused the two images together as if they were sitting next to each other, both deep in thought.
The exhibit has information on many other events and influential people that shaped the black community.
A five-generation photo of slaves is positioned near information about the Emancipation Proclamation and Jim Crow laws, as well as literature about the Buffalo Soldiers.
Another section highlights black representatives to Congress, such as Republican Robert Brown Elliott, U.S. Representative from South Carolina from 1874-76. Josiah Thomas Walls, a U.S. representative from Florida served as a Republican from 1871-1876. Another, Democrat Adam Clayton Powell Jr., represented New York in the U.S. House from 1945-71. He was the first person of African American descent from New York to be elected to Congress.
Andrew Young served as a United Nations ambassador under Jimmy Carter. A Georgia Democrat, Young served in the U.S. House from 1973-77.
Johnson picked another representative closer to home to feature — Alan Dupree Wheat, a Kansas City Democrat who represented Missouri in the U.S. House from 1983-95. His father a civil engineer in the U.S. Air Force, Wheat grew up on military bases. At one time, he attended school in Wichita.
Johnson said several students haven taken notice of the exhibit and stopped to learn about Black History Month.
"It means a lot to me, just to see them read some of the captions," Johnson said. "That really enthuses me."
Prominent women also grace the exhibit — Shirley Chisolm of New York, the first black congresswoman, served as a Democrat in the U.S. House from 1969-83. And Barbara Jordan, a Texas Democrat who served in the U.S. House from 1973-79. In 1976, she became the first woman and first black keynote speaker to take the stage at a Democratic National Convention.
On one occasion, Johnson noticed some high school boys laughing at something in the exhibit.
He had a photo of Los Angeles Lakers Kareem Abdul-Jabaar and Magic Johnson. The boys were chuckling at how short basketball shorts were in the 1980s.
Times certainly have changed, as Johnson can attest.
He grew up in Kansas City, Mo., in the city market area.
He recalls going to a downtown store with a revolving front door. A woman fell while after walking through. Johnson said he went to help the woman up. She refused and called him the N-word.
He went home to tell his mother of the exchange. It was the first time he'd heard the word.
"'We don't use that word,'" Johnson recalled what his mother told him. "It's not a nice word and I should never use it."
He also recalled drinking out of a public water hose while a regular fountain was reserved for white people.
But as his exhibit shows, it's all part of history, and Johnson hopes students can benefit from studying the exhibit.
"If a kid is interested in learning, that's when you have to guide them," Johnson said.