Chieftain boys beat two ranked opponents in two days
THS

above .500 for first time this season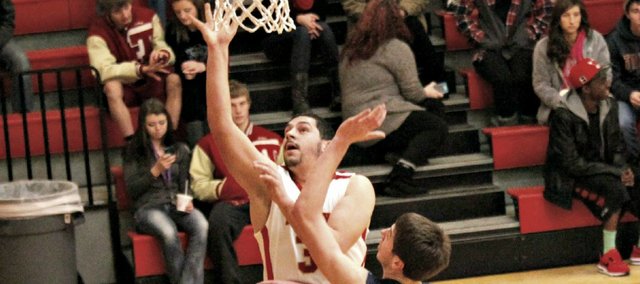 When the Tonganoxie High boys opened the 2013-14 basketball season, these are more the results they had in mind.
The Chieftains got over .500 for the first time this season Saturday, and they did so with their second win against a ranked team in as many days. Powered by a strong defensive effort, THS took down reigning Class 4A state champ Ottawa in a makeup game, 59-42.
The Cyclones, currently ranked No. 10 in the Kansas Basketball Coaches Association's 4A poll, managed just two first-quarter points against the Chieftains (7-6), allowing THS to jump out to a 15-2 lead.
"They've got some guys that can really shoot the basketball," coach Shawn Phillips said. "We tried to make sure we got out and pressured them and tried to push them off the arc a little bit. They didn't hit a lot of outside shots and we rebounded the ball."
Phillips' squad didn't allow Ottawa to come back before halftime, as it took a 23-11 lead into the locker room. The Chieftains continued to pull away in the second half, scoring 26 points in the fourth quarter to slam the door.
Jack Dale led all scorers with 15 points, while Tyler Ford and James Grizzle added 12 and 10, respectively.
Grizzle took center stage less than 24 hours earlier, dropping a career-high 31 points in a 72-59 win against Kaw Valley League foe Mill Valley. The Chieftains snapped a six-game losing streak against the Class 5A Jaguars.
THS entered the second half with a 33-25 lead and weathered a comeback attempt by MVHS — ranked No. 8 in 5A — in the third quarter. The lead shrunk to four with 2:14 left in the period, but the Chieftains closed out the quarter with five straight points. Their advantage reached 10 early in the fourth and grew to as many as 15 down the stretch.
Grizzle, who is averaging better than 20 points per game during the team's three-game win streak, made the Jaguars pay under the basket early and often. He went 13-of-14 from the field and also led THS with eight rebounds.
"At the beginning of the season, our guards were having a little trouble moving the ball, but lately, we've had really good chemistry," Grizzle said. "I feel like everybody is starting to come together."
The Chieftains will return to their home floor Tuesday for a KVL rematch with Basehor-Linwood. They dropped a 76-60 decision in their first meeting Jan. 10 at BLHS. They'll continue their second round of league play Friday when they host Piper. The Pirates handed the Chieftains their most lopsided loss of the season on Dec. 17, 78-49.