Face to Face: Tonganoxie Public Library Director Kelly Fann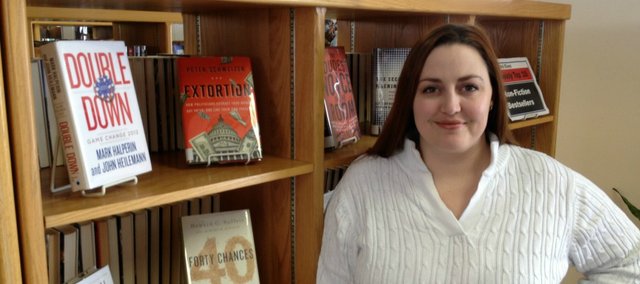 Name: Kelly Fann
Born: In Great Bend and grew up in neighboring Ellinwood.
Family: Fann and her husband, Mason, have two dogs, Walter and Sierra, and a cat, Harrison, named after George Harrison.
Occupation: Tonganoxie Public Library director since 2011.
Dream job as a child: Police officer. "That didn't go away until I started business classes and wanted to be an accountant," Fann said. "Needless to say, I didn't do either one of those."
Digging deeper: Fann has long held a desire to learn.
After graduating in 1997 from Ellinwood High School, she attended San Jose State in California, then finished up her final 12 hours back home at Barton County Community College.
That degree was in marketing. She went on to earn a bachelor's degree in English literature from Kansas University and a master's degree in library science at Emporia State University. Currently, she's about finished with a master's degree in public administration at KU.
"I'm always engaged in something," Fann said. "I get idle and bored when I'm not learning something new, though I'm pretty sure I'm done after this MBA.
"I'm tired. I think I've learned enough."
Pottery has become a hobby of hers.
When she's not throwing, she's riding a motorcycle.
Fann likes to ride down through the Flint Hills or travel the state along U.S. Highway 56.
"My husband is finally enjoying riding, so we'll do some joint rides," she said.
Fann and her husband like to travel, sometimes for weekend trips to destinations such as Memphis, Tenn.
"We like to travel as much as finances will allow," Fann said. "It's one of those few things I feel comfortable splurging on."
As part of her master's program, Fann traveled a bit farther, studying abroad for two weeks in Seoul, South Korea. She studied Seoul's economic sustainability.
She said that South Korea has been investing more money in its libraries in the past decade. Leaders there have identified that lifelong learning is important and that libraries serve as a viable resource.
"To remain an economic powerhouse, they're investing more money in their libraries, which I found refreshing," Fann said. inenberger, news editor at The Mirror newspaper of Tonganoxie, can be reached at 913-845-2222