THS

lifters compete at Basehor-Linwood meet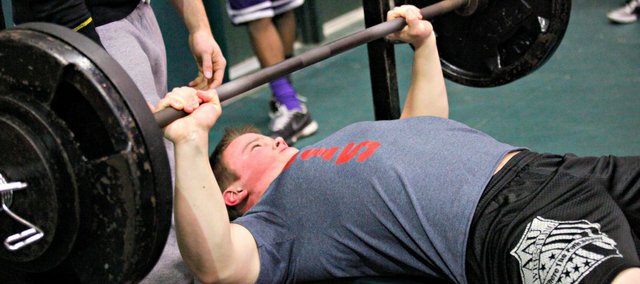 Basehor — Following a three-week break, the Tonganoxie High powerlifting team sent 27 lifters Saturday to Basehor-Linwood for the Bobcats' annual meet. About 580 lifters from 32 schools in Kansas and Missouri made their way to BLHS for the one-day event, which featured the three traditional events — bench press, squat and hang clean — as well as high jump, broad jump and 10-yard dash competitions.
Several Chieftains figured into team scoring with top-six finishes in their respective weight classes. Hunter Sturgis was the team's only individual champion, winning the 114-pound class. Sturgis totaled 525 pounds in the three lifts, defeating Basehor-Linwood's Tyler Miller by 10 pounds.
Chieftains to earn runner-up finishes were Noe Puebla (720 total pounds in the 140-pound class) and Cole Holloway (935 total in the 173-pound class). McKinna Shelton (440 total) and Bobbie Chapman (505 total) also took second in their respective classes in the junior division.
Other THS lifters to figure into team scoring were Seth Wolf (fourth at 173) and Annie Holton (third). Wolf set a meet record with a 305-pound bench press. Tommy Wetta also placed, coming in fifth at 114 pounds in the junior division.
McLouth High was also in action at the meet. Jake Copeland won a individual title at 242 pounds. He totaled 1,030 pounds, including a 455-pound squat and a 300-pound bench press — the top marks in his weight class.
Host school BLHS won the team titles in both boys and girls competition. Neither Chieftain team placed in the top three.
THS will return to competition Feb. 22 when it heads to Horton. The meet will be the Chieftains' last before the Class 4A state meet, set for March 1 in Abilene.