Tonganoxie couple takes spin on 'Wheel of Fortune'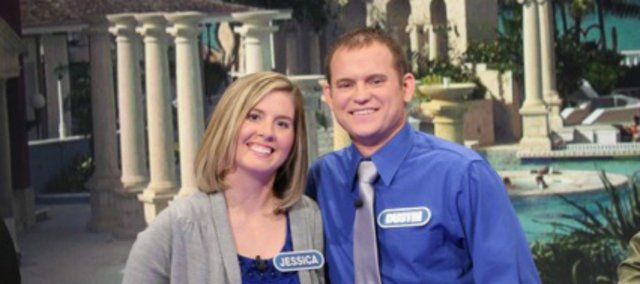 Jessica Schultz was eager for a shot to get on "Wheel of Fortune."
Her husband, Dustin Schultz, was not.
But it turns out Dustin's audition for the show in Kansas City, Mo., allowed both to get on the show.
The Tonganoxie couple headed to the Kansas City Power and Light Distric last spring when the game show was looking for potential contestants during several weekend sessions.
Jessica finished putting her registration card in a box.
"From the very beginning, this was all my idea," Jessica said.
Dustin, meanwhile, was along for the ride.
"I almost didn't fill out the card," Schultz said. "I almost didn't put my name in the box."
Jessica interjected.
"He's kind of shy," Schultz said. "He didn't want to get up on stage."
Game show officials randomly picked out registration cards for 5-minute speed rounds of the game.
Dustin's name was picked as the third to last during their session.
The next round
Dustin's appearance helped him to another round of game play and interviews in Kansas City, Mo., a few months later.
This time, they told him to bring his spouse, as the show was looking for contestants for its couples episodes.
Dustin said three game show representatives had them play the game on a miniature wheel against other couples. The officials were coaching the potential contestants: Smile more. Don't forget to clap. Show enthusiasm.
The couple also took a five-minute test — looking at 16 puzzles with some consonants and blanks and trying to complete as many as they could.
After about 90 minutes of puzzle solving and interviews, the Schultzes were done with the second audition.
If "Wheel of Fortune" officials wanted them, they'd know in the next two weeks whether they made the cut.
A few days later, they saw another couple from the second audition being interviewed on a Kansas City television station. They had been selected for the actual show in California.
They figured they hadn't made the cut.
But a few days later last November, an email came through.
The Schultzes also had been selected to appear as contestants on the show.
On to California
Officials told the Shultzes they wanted to film them Dec. 12, but if contestants aren't financially ready or have family obligations, they won't lose their spot. They can get on the show later, Jessica said.
The Tonganoxie couple accepted the Dec. 12 date, making it into a family vacation. Dustin's mother, Donna Schultz, joined them for the trip to California. Dustin and Jessica's daughter, Tinley, who just turned 1 in January, stayed with her grandmother at the hotel while Dustin and Jessica headed for the game show's studio in Culver City, Calif.
Preparing for the game required about five hours of paperwork, Dustin said.
For instance, contestants can say what their occupation is when they're on the show, but can't mention the specific company unless it's a nonprofit organization. Dustin, by the way, works for Crosby Plumbing, Heating and Cooling in Bonner Springs. Jessica, who formerly taught at Basehor Intermediate School, now stays at home with Tinley.
"No shoutouts," Dustin said about mentioning friends or family watching at home.
They also wore makeup for the show and stylists worked on Jessica's hair "because it's in HD," Dustin said with a laugh.
"I thought it was just awesome to feel like a rock star," Jessica said. "Not everybody got their hair done. It was cool to have them do your makeup and hair, just to feel pampered."
Dustin was less enthusiastic.
"I couldn't care less," he said. "They constantly were powdering everywhere on your face."
When the game started, Pat Sajak went through introductions. He didn't try his hand at pronouncing "Tonganoxie."
To the left of the wheel were five large-screen televisions. One showed cumulative winnings of the contestants, another a list of letters already used.
Jessica said producers always were reminding contestants to keep tabs on that monitor so as not to call out a letter already used.
"You don't want to be that person," Dustin said.
Though they didn't advance to the final round, the Shultzes did solve a puzzle and won $2,000 during the episode, which aired Feb. 5. It was one of six shows taped that day.
The couple must claim the winnings as income.
They plan to split up their prize a bit.
"We took our vacation money and will fill that vacation money back up," Jessica said.
More games?
Jessica described being on the show as "stressful," up on stage in front of the lights and cameras. But she said she eventually settled into the spotlight.
Dustin said, in retrospect, that the time on stage seemed to go by fast.
But it might not be their last game show.
For her 18th birthday, Jessica and her family went to California and attended an episode of "The Price is Right." Her father was called on to be a contestant and won a watch, Jessica said.
The couple also caught a glimpse of the "Jeopardy!" set, which is next door to "Wheel of Fortune."
Jessica said she now would like to try for a spot on another show.
"My cousin has wanted for a while to go to 'Family Feud,'" she added.