Chieftain wrestlers fall to Braves on senior night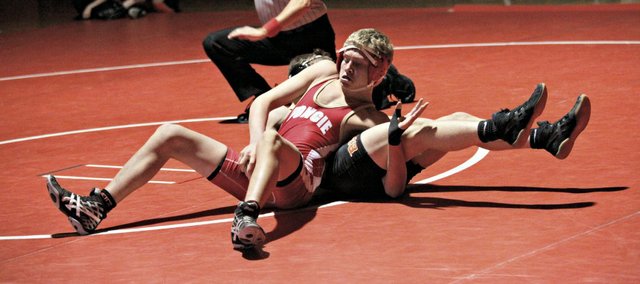 The Tonganoxie High wrestling team couldn't overcome five pins by Bonner Springs in a 66-17 loss to the Braves in Thursday's senior night dual at THS.
The teams traded open spots at the first two weight classes, the BSHS took a 24-6 lead with three consecutive pins by DJ Ballard (120), Collin Waller (126) and Kolbe Seaton (132). Garrett Martin (138) got the Chieftains' only pin in his match against Andrew Brundick, but Bonner Springs' Dominic Salvino (145) answered with a pin of his own in the next match.
Asher Huseman (152) defeated Bryan Lanning, 17-2, to account for Tonganoxie's only other win. Bonner Springs' Jordan Mauk (160) closed out the dual with a pin. Because of various injuries, the Chieftains were open in the final five weight classes.
Before the start of the varsity dual, seniors Steven Stockman, Jordan Boudreaux, Luke Carey, Zeke Kissinger, Joe Wolf and Clayton Himpel were recognized in a ceremony.
The Chieftains will see the Braves again Saturday at the Kaw Valley League tournament. Action will begin at 8 a.m. at Piper.
"This dual isn't going to dictate what happens in two and a half weeks," coach Jeremy Goebel said. "We've got to step it up and be ready to finish this thing. We've got to continue to push the pace and set the tone in the practice room this next week and the following week."
Bonner Springs 66, Tonganoxie 17
106 — Cameron Cash (TON) won by default
113 — Josiah Seaton (BON) won by default
120 — DJ Ballard (BON) pinned Jay Willcutt (TON), 4:51
126 — Collin Waller (BON) pinned Jordan Boudreaux (TON), 3:55
132 — Kolbe Seaton (BON) pinned Clayton Himpel (TON), 2:18
138 — Garrett Martin (TON) pinned Andrew Brundick (BON), 5:27
145 — Dominic Salvino (BON) pinned Heath Martin (TON), 3:59
152 — Asher Huseman (TON) def. Bryan Lanning (BON), 17-2
160 — Jordan Mauk (BON) pinned Dylan Kroll (TON), 1:15
170 — Anthony Kubas (BON) won by default
182 — Ryan Stumbough (BON) won by default
195 — Sean Singleton (BON) won by default
220 — Johnathan Carter (BON) won by default
285 — Josh Mullins (BON) won by default