Five
THS

seniors sign with college football programs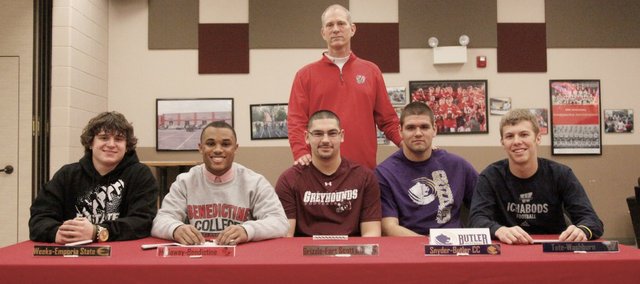 After leading the Tonganoxie High football team to its most successful two-year run in recent memory, five Chieftain seniors have guaranteed themselves roster spots on various college programs across the state.
Earlier this month, Cole Holloway, Cody Snyder, James Grizzle, Wyatt Weeks and Eric Tate each signed national letters of intent with different teams. With dozens of friends, coaches and teammates present, all five were honored in a ceremony Wednesday in the THS Chieftain Room. Holloway has signed with Benedictine College, Snyder with Butler Community College, Grizzle with Fort Scott Community College, Weeks with Emporia State University and Tate with Washburn University.
"These five and others in the crowd represent the direction of the football program," THS athletics director Brandon Parker said. "These guys and their teammates have done a great job of, in two years, changing the culture of the program. They're going to take that to the next level. They're great young men who are going to do wonderful things for not only the team, but for the school."
After going 1-8 in each of their first two high school seasons, this year's senior class helped the Chieftains to a combined 14-8 mark in 2012 and 2013 — the first two seasons under coach Al Troyer. During that run, THS won back-to-back district championships and reached the regional round of the Class 4A playoffs twice. The team went 9-2 this past fall, including an 8-1 mark in the regular season — its best finish in seven years.
All five signees earned first- or second-team All-Kaw Valley League honors at the end of the season.
"With the 18 seniors we had this year in different capacities, it made my job a lot easier," Troyer said. "Our record and the way things went was an attribute to that hard work. If you want to know what it takes to have success, these guys are an example of that. It's been awesome watching them grow and be a part of something successful."
Holloway, a first-team running back, amassed a league-best 1,353 yards and 13 touchdowns as a senior. He eclipsed 150 yards five times, including a season-high, 213-yard outing against Lansing. He joins a Benedictine squad coming off a 10-2 season and a Heart of America Athletic Conference championship.
Snyder anchored an offensive line that helped THS average 345.3 yards per game — 249.8 on the ground — and score 55 total touchdowns. He received first-team All-KVL honors and will represent the Chieftains one more time this summer in the Kansas Shrine Bowl. After that, he'll join a Butler team that went 9-2 in 2013, winning Jayhawk Conference and NJCAA Region VI titles.
Grizzle, who joined the THS program midway through the 2012 season, quickly emerged as one of the league's top defensive ends. He led the Chieftains with 11 sacks and recorded 54 total tackles on the way to a first-team All-KVL selection. He'll join a FSCC squad that went 2-7 in 2013. Grizzle and Snyder will meet on the gridiron this fall when Fort Scott travels to Butler.
Weeks earned first-team all-league recognition after hauling in seven passes for 100 yards and a touchdown at tight end. He'll play H-back — a spot similar to his high school position — on a Hornet team that went 9-2, finished second in the Mid-America Intercollegiate Athletic Association and made an appearance in the NCAA Division II playoffs.
Tate was named to the all-league second team after making three of four field goal attempts and going 43-of-53 on extra point attempts. He kicked a season-long 36-yarder against Perry-Lecompton. The Ichabods went 8-3 last season and finished fifth in the MIAA. Tate and Weeks will see each other this fall when Emporia State travels to Washburn for their annual "Turnpike Tussle" rivalry game.
Parker said this is believed to be Tonganoxie's largest football signing class in school history. He and Troyer both praised all five signees for their contributions to the school, both on and off the football field.
"These five individuals have been nothing but class and have represented Tonganoxie to the greatest extent in everything that they do," Parker said.