Three
THS

wrestlers win

KVL

titles
Himpel breaks
THS

career wins record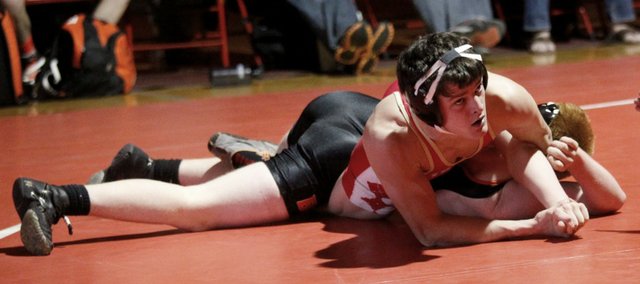 The Tonganoxie High wrestling team got its final regional tune-up Saturday at the Kaw Valley League tournament at Piper, and three Chieftains ended their day on the top step of the awards podium.
Clayton Himpel (132), Asher Huseman (152) and Luke Carey (195) won their respective weight classes, helping THS to a sixth-place finish in the team standings.
Himpel's final win of the day, which came by injury default against Mill Valley's Logan Marx, marked an even bigger milestone than a league title. The victory was the 142nd of the senior's career, giving him the school's all-time record formerly owned by Chieftain assistant coach Ross Starcher.
"He's a definite competitor that you want on your team," coach Jeremy Goebel said of Himpel. "For him, it's well deserved. He's put in the time and the work. Records are meant to be broken, and he's done that."
Himpel also owns the school records for technical falls and three-point near falls. He is 28-4 this season and 142-23 in his career at THS.
Fellow senior Luke Carey extended his current win streak to five matches, including a 5-4 win against Mill Valley's Jake Gramke in the finals. He'll enter regional action with a 21-12 record. Huseman, a junior, won his first league title after earning runner-up finishes each of the last two seasons. He defeated Mill Valley's Bryan Burnett in the championship round, 5-0, to improve to 28-4.
"Those kids are saying the course, week in and week out," Goebel said. "They're competitors that have finished before at the state, regional and league tournament, and they'll continue to do that. I'm excited to see them finish it out and leave it all on the mat."
Junior Garrett Martin (138) was the only other Chieftain to record at least two wins. He went 2-2 and took fourth. As a team, THS finished with an even 100 points. Mill Valley won the team title with 232 points, finishing 86 ahead of second-place Basehor-Linwood.
All wrestlers will face a do-or-die situation Friday when they open Class 4A regional competition at Holton. The two-day tournament, hosted by the reigning state champion Wildcats, will begin at 1:30 p.m. Friday and resume at 10 a.m. Saturday. The tournament field is comprised of THS, Holton, Atchison, Basehor-Linwood, Bonner Springs, De Soto, Eudora, Royal Valley, Bishop Ward, Piper, Sumner Academy, Jeff West, Perry-Lecompton, Bishop Miege, Hayden and Wamego.
"Everything we've done to this point, it's all coming center circle this weekend," Goebel said. "Everything we did is to get to this point. Win or lose, you've got to finish. If you finish, you'll be proud of yourself. You're not going to have anything to reflect on like you held something back."
Overall team results
Mill Valley, 232; 2. Basehor-Linwood, 146; 3. Lansing, 141; 4. Turner, 132; 5. Bonner Springs, 118; 6. Tonganoxie, 100; 7. Piper, 38; 8. Bishop Ward, 26.
THS individual results
106 — Cameron Cash, 0-2 (Fourth)
113 — Tyler Salmon, 0-2 (N/A)
120 — Jay Willcutt, 1-2 (Fourth)
126 — Jordan Boudreaux, 0-2 (N/A)
132 — Clayton Himpel, 3-0 (First)
138 — Garrett Martin, 2-2 (Fourth)
145 — Heath Martin, 0-2 (N/A)
152 — Asher Huseman, 2-0 (First)
160 — Connor Brown, 1-2 (N/A)
182 — Dylan Kroll, 0-2 (N/A)
195 — Luke Carey, 2-0 (First)