THS

standout Griffin to jump at Wichita State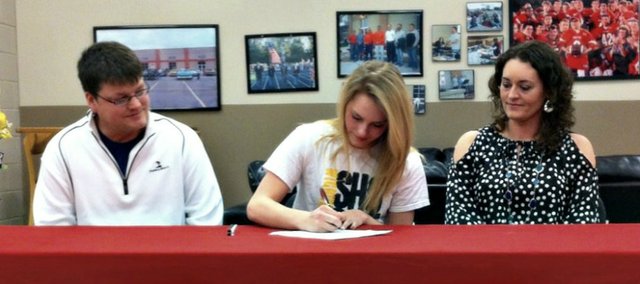 Each of Haley Griffin's first three track and field seasons have ended at the state meet at Wichita State University. Griffin will try to wrap up her senior season at the same venue this spring, but regardless, she's hardly done competing at Cessna Stadium.
Griffin, a three-time state qualifier in the high jump, will continue her career next year as a Shocker. She signed a national letter of intent at a ceremony Thursday in the THS Chieftain Room.
In her first three seasons, Griffin put together a long resume of accomplishments. She's the reigning Kaw Valley League champion, a three-time regional runner-up and a three-time top-10 finisher at state. She broke her own personal record with a jump of 5 feet, 6 inches at last year's state meet, good for a third-place finish.
"It's kind of a dream come true, actually, because she's gotten better every year," said former THS coach Chris Weller, who coached Griffin each of the last three years. "She achieved her best jump ever at state on her third try last year, so that's what every coach wishes for."
Griffin, who won three meet titles in 2013, finished second at state as a sophomore, but jumped four inches higher at last year's meet. The Shockers took notice and contacted her at the beginning of the current school year. She took a visit, where she met with head coach Steve Rainbolt, who also serves as the high jump coach, as well as assistant coach Heidi Yost, a former jumper for the Shockers. She was introduced to current WSU team members and got to watch a practice.
"They asked if I'd be interested, and I went on a visit during football season," Griffin said. "The coaches were awesome. Heidi was super nice to me the whole time. She made sure everything went smoothly and was comfortable."
Griffin is the first Chieftain to sign with the WSU track and field program since 2010 grad DJ Lindsay, now a senior sprinter for the Shockers. The WSU women won the Missouri Valley Conference indoor championships last season and took second at the outdoor championships.
"I think (Griffin) is walking into one of the nation's best programs," Weller said. "They're getting a hard worker that knows how to compete."
Griffin will begin her quest for a fourth trip to state when the Chieftains open their season April 3 at Ottawa. For the first time in her career, she'll be without former teammate Jenny Whitledge. Whitledge and Griffin swept the top two spots at several competitions over the last three years, including the last three league and regional meets, and the 2012 state meet.
Competing without Whitledge this spring will be different, Griffin said, but regardless, she hopes to leave one more stamp on an already storied career at THS. Among her goals are breaking the school's high jump record of 5-6.5, which Whitledge set at last year's regional meet.
"I'm definitely going to use that as motivation to prove to everyone what I really can do," Griffin said. "I'm hoping to get 5-8 this year."