KSHSAA

releases regional wrestling brackets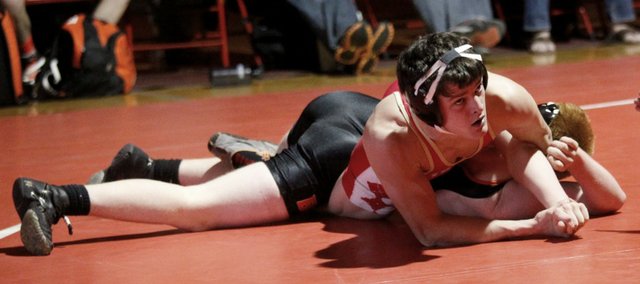 Related document
THS individual records
Cash, 11-6
Salmon, 7-13
Willcutt, 10-17
Boudreaux, 9-15
Himpel, 28-4
G. Martin, 20-14
H. Martin, 1-27
Huseman, 28-4
Wolf, 17-7
Kroll, 4-21
Carey, 21-12
Kissinger, 17-3
Brackets for this week's Class 4A regional wrestling tournament in Holton were released Wednesday night by the Kansas State High School Activities Association.
Tonganoxie High will have 12 wrestlers in action at the two-day tournament, which begins at 1:30 p.m. Friday. Asher Huseman (152), Joe Wolf (160) and Zeke Kissinger (220) each received first-round byes, so they won't know their first opponents until the opening round concludes Friday. The remaining Chieftains' first opponents are listed below.
Friday's action will conclude with championship semifinals. The tournament will resume at 10 a.m. Saturday with consolation cross-bracketing. The top four finishers in each weight class will advance to the 4A state tournament, which starts Feb. 28 in Salina.
THS opening matches
106 — Cameron Cash vs. Corbin Nirschl (Basehor-Linwood)
113 — Tyler Salmon vs. Dominic Buterakos (Holton)
120 — Jay Willcutt vs. Tyler Price (Holton)*
126 — Jordan Boudreaux vs. Jeff Wallingford (Atchison)
132 — Clayton Himpel vs. Vernon White (Bishop Miege)
138 — Garrett Martin vs. Andrew Brundick (Bonner Springs)
145 — Heath Martin vs. Hunter Friesen (Bishop Miege)
152 — Asher Huseman vs. Connor Kramm (Wamego) or Pedro Morales (Bishop Ward)
160 — Joe Wolf vs. Dylan Campbell (Wamego) or Jace Holmes (Jeff West)
170 — Dylan Kroll vs. Stephen Struzzo (Basehor-Linwood)
182 — Open
195 — Luke Carey vs. Lawson Marshall (De Soto)
220 — Zeke Kissinger vs. Bradley Pottorf (Atchison) or Dominic Foster (Basehor-Linwood)
285 — Open
*Match will take place in second round