Chieftains enter final week of regular season with momentum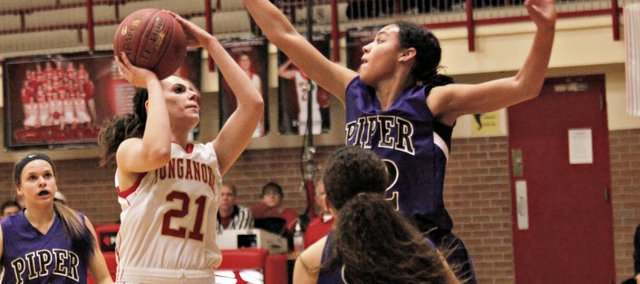 After emerging victorious Friday against Bishop Ward, both Tonganoxie High basketball teams will enter the final week of the regular season with some momentum.
The Chieftains swept the Cyclones at Kansas City Kansas Community College. The girls won by a 46-33 margin, while the boys picked up a 69-59 victory.
The THS girls (8-10, 5-7 Kaw Valley League) wasted little time taking control, as they jumped out to a 17-3 lead after one quarter. The Cyclones (4-14, 1-11) managed just one more point in the second, and the Chieftains took advantage. They continued to pull away before the break and went into the locker room with a 28-4 advantage.
The lead grew to 28 in the third quarter before Ward went on a late scoring run to close the gap. The Cyclones never got within single digits, though, as THS cruised to its third win in four days.
The three-game win streak, which also includes wins against Turner and Lansing, is the team's longest this season.
"You always want to be playing your best ball late," coach Randy Kraft said. "I think we've taken some steps here in the last couple weeks. We went from losing a lot of close games to winning a few, so hopefully we've got that going in our favor."
Emily Soetaert led THS with 13 points, while Kara Banks and Sarah Ahart each added 10. Ahart also pulled down a team-high 11 rebounds for her first double-double of the season.
Kraft's squad will close out the regular season against two teams it played close earlier this season. The Chieftains will travel Tuesday to Mill Valley, where they'll try to avenge a 32-22 loss they suffered to the Jaguars on Feb. 7. MVHS enters this week on a nine-game win streak.
After Tuesday's game, THS welcome Bonner Springs to town Thursday for senior night. The Braves defeated the Chieftains on Jan. 14 at BSHS, 55-47.
"I think it's big," Kraft said. "We need to go into sub-state with some momentum."
Score by quarters
Tonganoxie 17 11 10 8 — 46
Bishop Ward 3 1 8 21 — 33
Individual scoring
Emily Soetaert 13, Kara Banks 10, Sarah Ahart 10, Katelyn Waldeier 6, Tressa Walker 4, Kaitlin Hall 2, Cheyenne Ford 1.
Chieftain boys shake slow start
The THS boys found themselves behind by double digits in the game's opening minutes, but rebounded for a 69-59 win on the road.
A slow start by the Chieftains (9-9, 6-6 KVL) allowed Ward (2-16, 0-12) to jump out to a 14-3 lead in the first quarter, but THS answered with a 13-4 run of its own to get within two points at the end of the period. The Chieftains stayed in control in the second quarter, opening up a six-point halftime lead, 33-27.
"I didn't think we came out with quite as much energy as we should have, and Ward came out on fire," coach Shawn Phillips said. "We got ourselves down about 12 points, then got a little more focused on how we needed to play. We got it on track."
The THS advantage grew to 13 points in the third quarter, and the Cyclones never mounted a serious comeback attempt down the stretch.
As a team, the Chieftains enjoyed one of their most balanced scoring outputs of the year. Six players finished with at least eight points. James Grizzle led the way with 12 points, and Brady Swedo and Carl Hecht had 11 and 10, respectively.
Phillips' team will try this week to cap off season sweeps of Mill Valley and Bonner Springs. The Chieftains handed MVHS a 72-59 loss earlier this season at home, and they defeated the Braves on the road, 62-54.
"We definitely want to make sure we play well," Phillips said. "Just because we beat them the first time, that has zero impact on if we win this time. We've got to make sure we put a good, solid effort in.
Score by quarters
Tonganoxie 16 17 17 19 — 69
Bishop Ward 18 9 15 17 — 59
Individual scoring
James Grizzle 12, Brady Swedo 11, Carl Hecht 10, Jack Dale 9, Jared Sommers 9, Tyler Ford 8, Ben Johnson 5, Eric McPherson 5.