Five
THS

wrestlers punch state tickets in regional opener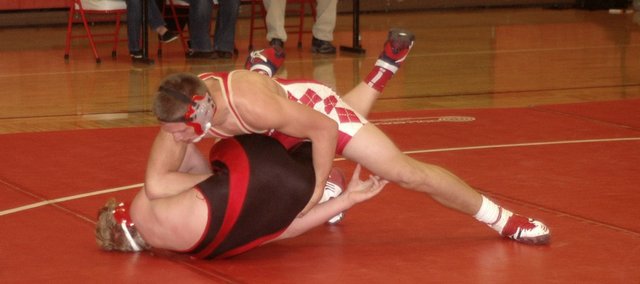 Five Tonganoxie High wrestlers will compete for Class 4A regional championships Saturday in Holton. Whether they win or lose, though, their season will live on for another week.
Clayton Himpel (132), Garrett Martin (138), Asher Huseman (152), Luke Carey (195) and Zeke Kissinger (220) reached the finals in their respective weight classes Friday, punching their tickets to next week's state tournament in Salina.
Himpel, Huseman, Carey and Kissinger each had first-round byes, then went 2-0 to reach the finals. Himpel will face Holton's Jonah Lutz in the finals. Lutz defeated Himpel in two meetings earlier this season. Huseman will get another shot at Holton's Lucas Lovvorn, who handed him his only loss in 4A competition this season Feb. 1 in Baldwin. Carey will also face a Holton wrestler in Clayton Folk, and Kissinger will take on Piper's Dalton Murray.
Martin went 3-0 Friday, including a 6-2 win against Basehor-Linwood's Dalton Inlow in the semifinals. The win came less than a week after Inlow pinned Martin at the Kaw Valley League tournament.
Joe Wolf (160) was the only other Chieftain to reach the semifinals. He fell to Holton's Andrew Rieschcik in the semis, leaving him in a do-or-die situation when action resumes Saturday. A win in his next match would guarantee him a spot at state, while a loss would eliminate him from contention. His opponent is yet to be determined.
Tonganoxie's six remaining wrestlers lost their opening matches, but are still alive in consolation action. With the exception of Cameron Cash (106) each must win three matches Saturday to stave off elimination and earn a state bid. Cash only needs two wins because of a smaller bracket at 106 pounds. Next opponents for each wrestler are listed below.
As a team, Tonganoxie enters Saturday in second place with 97.5 points. Host school Holton, which has eight wrestlers in the finals, leads the ranks with a score of 187.
Saturday's action will begin with consolation cross-bracketing at 10 a.m. and conclude with the championship finals. Like The Mirror on Facebook or follow us on Twitter for updates. Use the hashtag #MirrorSports to join the conversation on Twitter.
Overall team scores
Holton, 187; 2. Tonganoxie, 97.5; 3. Bonner Springs, 69; 4. Basehor-Linwood, 68.5; 5. Sumner Academy, 60.5; 6. Royal Valley, 56; 7. Atchison, 41.5; T8. De Soto, 41; T8. Piper, 41; 10. Jeff West, 38; 11. Wamego, 34; 12. Bishop Miege, 18; 13. Bishop Ward, 14; 14. Perry-Lecompton, 8; 15. Eudora, 2; 16. Hayden, 0.
THS individual results
Name, Friday's record, Next match
106 — Cameron Cash, 0-1, vs. Tyler Barnes (Perry-Lecompton)
113 — Tyler Salmon, 0-1, vs. Austin Michaelis (Jeff West)
120 — Jay Willcutt, 0-1, vs. Wyatt Williams (Perry-Lecompton)
126 — Jordan Boudreaux, 0-1, vs. Nathan Mann (De Soto)
132 — Clayton Himpel, 2-0, vs. Jonah Lutz (Holton)*
138 — Garrett Martin, 3-0, vs. Justin Rieschick (Holton)*
145 — Heath Martin, 0-1, vs. Nick Quinlan (Perry-Lecompton)
152 — Asher Huseman, 2-0, vs. Lucas Lovvorn (Holton)*
160 — Joe Wolf, 1-1, Opponent TBA
170 — Dylan Kroll, 0-1, vs. Mike Longacre (Eudora)
195 — Luke Carey, 2-0, vs. Clayton Folk (Holton)*
220 — Zeke Kissinger, 2-0, vs. Dalton Murray (Piper)*
*Championship match (Already earned state bid)