THS

state qualifiers shift focus to Salina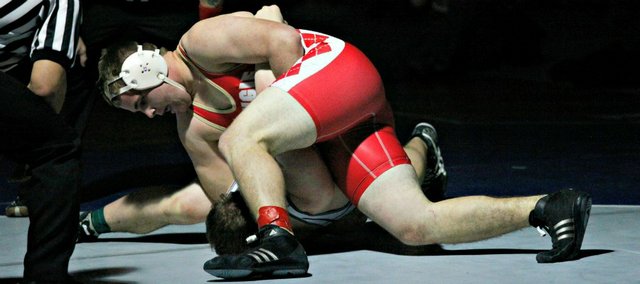 Holton — Seeds have been decided and brackets have been filled, and in just four days, Class 4A wrestlers from across Kansas will convene in Salina for their shot at state supremacy.
Five Tonganoxie High wrestlers will represent their school when state action begins Friday at the Salina Bicentennial Center. Clayton Himpel (132), Garrett Martin (138), Asher Huseman (152) Luke Carey (195) and Zeke Kissinger (220) punched their tickets to state last week, reaching the finals in their respective weight classes in a regional tournament at Holton.
All five wrestlers earned state bids Friday by winning their semifinal matches. By reaching the finals, they guaranteed they'll be the higher-seeded wrestlers in their state openers. Himpel, Carey and Kissinger won their title matches to earn No. 1 seeds, while Martin and Huseman finished second.
"This year, having three champions and two runners-up, that's just big on the seeding part," Himpel said. "Instead of drawing a No. 1 seed from another region, you'll draw a No. 3 or 4 seed, so that's a great start."
Himpel (31-4 overall) avenged two earlier losses to Holton's Jonah Lutz with a 4-2 win in Saturday's regional final. An escape by Lutz forced a 2-2 tie midway through the third period, but Himpel sealed the deal with a takedown with about 35 seconds left. Carey (24-12) also defeated a Holton wrestler to take gold, earning a 7-0 win against Clayton Folk, and Kissinger (20-3) shut out Piper's Dalton Murray, 6-0.
Martin (23-15) and Huseman (30-5) both fell to Holton opponents in the finals. They will be No. 2 seeds in their respective state brackets.
THS entered Saturday's regional competition with seven other wrestlers still alive in consolation action, but all were eliminated from state contention. As a team, the Chieftains finished third with 121.5 points. Host school Holton, which qualified 12 wrestlers for state and won five individual titles, won the team title with 246 points.
With the exception of Martin, all of Tonganoxie's state qualifiers have wrestled at the state level at least once before. Himpel has been three times, Huseman twice and Carey and Kissinger have each been once.
"We've got kids with experience who know what it's like," coach Jeremy Goebel said. "You've got a little excitement, but I think that pays huge dividends. They're one a one-way track and they want to go and do some damage."
THS is out to improve on last year's 10th-place state finish — its highest in school history. Himpel, Huseman, Carey and Kissinger were among eight Chieftains to wrestle on last year's state team.
"It comes down to mind over matter and who wants to push through that pain," said Himpel — a two-time fourth-place finisher at state. "Not everybody is meant for it, but some people want it. We're coming to get it this time."
The Chieftains set a school record with three medalists at last year's state meet. Julius Coats, a 2013 graduate, joined Himpel as a fourth-place finisher, while fellow grad Thomas Miller came in sixth.
This year's tournament will begin at 10 a.m. Friday. Himpel will open against Goodland's Austin Hernandez (23-6), Martin will face Mulvane's Connor Penka (37-5), Huseman will take on Chanute's Daniel Dees (18-8), Carey will see Buhler's Henry Hickert (19-12) and Kissinger will face Chanute's Gage Clark (22-11).
Friday's action will conclude with championship semifinals. Competition will resume with consolation cross-bracketing at 9 a.m. Saturday.
"We talk all week about one match at a time, but they want to finish," Goebel said. "That's their word every day in practice or at tournaments. It's a motto they've believed in, and they've pushed the pace in the practice room to be able to finish for six minutes at a time."
Follow The Mirror on Twitter or like us on Facebook for updates throughout the tournament. Use the hashtag #MirrorSports to join the conversation on Twitter.
Regional team results
Holton, 246; 2. Basehor-Linwood, 125.5; 3. Tonganoxie, 121.5; 4. Bonner Springs, 105; 5. Royal Valley, 97; 6. Sumner Academy, 78.5; 7. De Soto, 76; 8. Jeff West, 72; 9. Wamego, 71; 10. Atchison, 66.5; 11. Piper, 49.5; 12. Bishop Miege, 46; 13. Bishop Ward, 42; 14. Perry-Lecompton, 22; 15. Eudora, 9; 16. Topeka-Hayden, 5.
THS state qualifiers
Name, Tournament (Overall)
132 — Clayton Himpel, 3-0 (31-4)
138 — Garrett Martin, 3-1 (23-15)
152 — Asher Huseman, 2-1 (30-5)
195 — Luke Carey, 3-0 (24-12)
220 — Zeke Kissinger, 3-0 (20-3)