Tonganoxie teams advance to state for Science Olympiad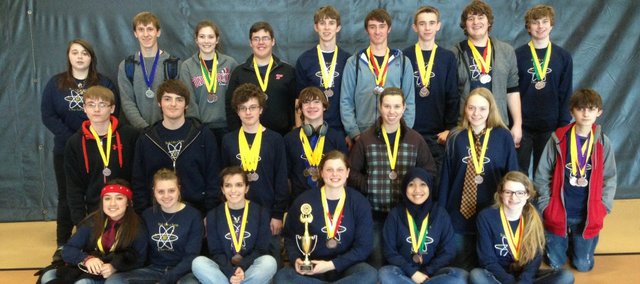 The Tonganoxie High School Science Olympiad team has earned its highest regional finish and now prepares for another state appearance.
The team competed Saturday in the Northeast Kansas Regional at Johnson County Community College.
THS finished third overall in the high school division, the team's highest finish in school history.
The team earned a trophy and each team member received a medal.
Tonganoxie High medaled in 17 of 23 possible events and will be competing April 5 at state on the Wichita State University campus.
Olathe North finished first and St. James Academy second. Olathe South placed fourth, Blue Valley Northwest fifth and Lawrence Free State sixth.
Here's a list of individual medalists in their respective events:
• Anatomy: Katelyn Waldeier and Jon Irwin, third.
• Astronomy: Spencer Finkbiner and Nick French, third.
• Boomilever: Jack Crow and Brad Andrews, sixth.
• Bungee drop: Brad Andrews and Jake Tollefson, first.
• Circuit lab: Indah Zatadini and Garrett French, fifth.
• Compound machines: Jack Crow and Indah Zatadini, sixth.
• Designer Genes: Spencer Finkbiner and Celeste Bartels, third.
• Dynamic planet: Celeste Bartels and Danielle Irwin, third.
• Elastic Launch Glider: Jack Crow and Jake Tollefson, third.
• Experimental Design: Katelyn Waldeier, Celeste Bartels, Danielle Irwin, second.
• Forensics: Makayla Dajani and Danielle Irwin, sixth.
• GeoLogic Mapping: Nick French and Jake Tollefson, third.
• Mag Lev: Evan Stilgenbauer and Jon Irwin, second.
• Material Science: Celeste Bartels and Indah Zatadini, fifth.
• Scrambler: Evan Stilgenbauer and Jon Irwin, third.
• Water Quality: Katelyn Waldeier and Ben Jacobs, fourth.
• Disease Detectives: Spencer Finkbiner and Makayla Dajani, sixth.
The Tonganoxie Middle School team also has advanced to state.
The team tied for fifth place in its division at the regional.
For more on the team's individual results, check back to tonganoxiemirror.com.