Shawnee Mission school district offers no decision yet on sex-ed poster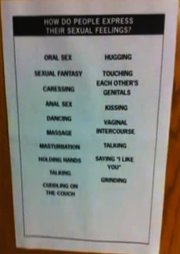 Mark Ellis and a number of other concerned Shawnee Mission school district parents were at Monday night's school board meeting looking for an answer.
But there were none to be had just yet in regards to the comprehensive review being done of a sex-education poster at Hocker Grove Middle School that is at the heart of much local and statewide debate.
Superintendent Jim Hinson said an internal committee was currently reviewing the poster to determine whether it would be used in the future as supplemental material for classroom discussions on human sexuality and sexually transmitted diseases. He said he expected a final decision within the next 30 days.
"I was disappointed," Ellis said following the meeting, noting he had been told by district officials there would be a decision announced that night. "But I think I have to hold them to the 30-day decision and just kind of hope it happens then."
A lot has already happened since Ellis' initial complaint, made in January, about the poster titled "How Do People Express Their Sexual Feelings?" In addition to the district's comprehensive review, a House bill inspired by the poster and sponsored by state Sen. Mary Pilcher-Cook, R-Shawnee, has been heard in Topeka by the House Education Committee. A Senate bill also sponsored by Pilcher-Cook still awaits a hearing.
In its original form, the House bill would have required public school districts to offer sex education only as an opt-in course where parents would have to provide written permission before students could take the class. On Monday, however, the Education Committee made significant changes, amending the bill to one requiring written consent from parents before students could be withheld from the class, a requirement many Kansas school districts already independently employ. A final vote is expected today.
Ellis and the contingent of parents at the school board meeting are in favor of the opt-in approach, which they say will allow them to decide when and how to teach their children about sex, as opposed to school districts.
"I think it's necessary," he said. "The House bill kind of ran into a roadblock (Monday) but the Senate bill is still out there. So I'm kind of hoping that both of those will gain momentum and pick up and will become law. I hope they end up on Governor Brownback's desk."
Legislators said Monday they understood parental concerns but feel some students who need sex education won't receive proper information any other place.
But teaching children about sex is the responsibility of parents, said Mike Jones, parent of six children in the district. And that's how it should be, he said.
"I think that school districts are taking on a position that parents don't parent their children the way they should," he said following the board meeting. "So these school districts seem to feel like they need to step in and make up for that. There are a lot of parents here tonight that do parent their children and do want the school district to just back off and let us do our own job."
Currently, the decision regarding policies about parental approval of sex education is left to local school districts. And in the Shawnee Mission school district, parents have the option to opt their child out of sex education and even review the materials beforehand, said district spokeswoman Leigh Anne Neal.
Like Ellis, who is the parent of a student at Hocker Grove Middle School, Jones said he was "shocked" when he heard about the poster's contents. The poster listed a range of intimate and sexual acts, from holdings hands, talking and kissing to grinding and oral sex. District officials say it was only meant to be used in the context of teacher-led classroom discussions utilizing "Making a Difference," a new set of sex education curriculum the district is using this school year that promotes abstinence as a way to prevent sexually transmitted diseases.
"Some of the things that were discussed on that poster were completely inappropriate for children that are 12 years old," Jones said.
He said he was glad the board didn't announce a decision Monday as that would allow more time for parental input on the matter. Parents' input is something Hinson encouraged at the meeting, saying they could submit their concerns to him in writing, at jimhinson@smsd.org, and he would share them with the committee reviewing the poster.
"I think no decision is good news at this point," Jones said.
The Associated Press contributed to this report.