Tonganoxie's Genesis Christian Academy fundraiser to feature castle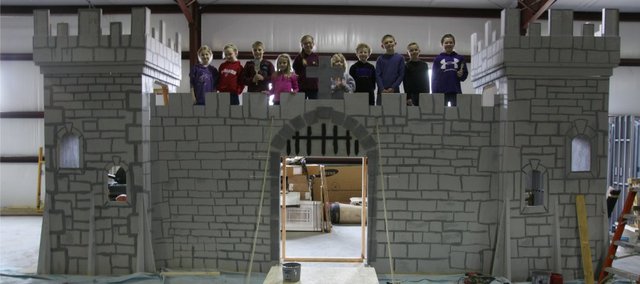 A new feature at this year's Genesis Christian Academy Night of Knights might have the flavor of a couple Manhattan landmarks.
The annual fundraiser at the Tonganoxie private school is Friday, and with it, a wooden castle front.
The castle measures about 22 feet in length and is about 4 feet deep.
Tonganoxie resident Andrew Suber, whose daughter, Ellie, is a second-grader at GCA, spent the past three Sundays working on the castle.
He said the structure resembles the West Stadium expansion at KSU Stadium in Manhattan.
"A little bit of Nichols Hall in there, which I would say is a classic castle style," Suber said, referring to another building on the Kansas State University campus.
Suber estimated spending 20 hours over three Sundays to complete the structure.
This past Sunday, 10 GCA parents and nearly 15 students spent about three hours painting it.
"I don't mind putting boards together, but I don't paint, so this has been wonderful to have all these friends come and make it look good," Suber said. "It makes it look like a real castle."
Suber, who has a construction science degree from K-State, is no stranger to building projects, though others are on a slightly larger scale.
His company, Blue Mountain Capital, is building the Bluemont Hotel near KSU and Aggieville in Manhattan. The upscale hotel is set to open in October.
Asked how he got involved in the project, Suber said Night of Knights organizer Kaija Baldock contacted him with the idea.
"And he made the mistake of answering," Baldock said with a laugh.
Suber said his wife, Stephanie, actually had chatted with Baldock early on and the project grew from there.
The castle will be broken down into four parts for the move from Suber's work building on County Road 5 to Genesis Christian Academy on Washington Street.
The castle will be reassembled on the stage in the GCA gymnasium and serve as the backdrop for the Night of Knights.
Activities will begin at 4 p.m. with the silent auction, which will end about 7:15.
Ken Tallent will be serving up a dinner buffet of pulled pork sandwiches, baked beans, sweet potato and regular fries from 5 to 7:30 p.m.
At 6 p.m., GCA high school students will play on the trumpets and serve as town heralds.
GCA music teacher Mendy Powell will provide musical entertainment. Jason Topliff, GCA parent and school board member, will give the welcome, and GCA kindergarten student Kalea Baldock will say a prayer.
Many businesses and individuals have donated to the cause. For instance, Belfonte is donating ice cream to complement peach cobbler being served with the meal. There also are 40 live-auction items that have been donated. Donations have come from as far away as California and Washington, D.C.
"It is absolutely amazing how generous companies and individuals are," Kaija Baldock said.
There also will be raffles for an iPad Mini and a hunting gun, as well as a special game during the live auction.
Visitors can purchase a red or purple bracelet for $10 each for the Heads or Tails game. Participants have to successfully guess a series of coin tosses. The last person wearing the purple bracelet still playing wins an autographed K-State football. The last person standing with a red bracelet gets an autographed Kansas University basketball.
Tara George's event planning class at Tonganoxie High School will be providing activities and an auction with play money for youths during the Night of Knights.
Some coaches from the high school also have donated time for one-on-one instruction lessons.
"I love that the public school and the private school are working together to make it more of a community event," Baldock said.
As volunteers make final arrangements this week, Baldock said, she's ready for the big event to arrive and raise money for GCA.
"I've had a blast working on the event," Baldock said. "I'm just excited to see it come to life and I hope that everyone enjoys it as much as I've enjoyed planning it."
And if anyone wants to have fun storming the castle, GCA will be the place to be Friday.
"We encourage people to come out and they can take a tour of the castle and spend some money for Genesis," Suber said.