Face to Face: Tonganoxie Assistant City Administrator Jennifer Jones-Lacy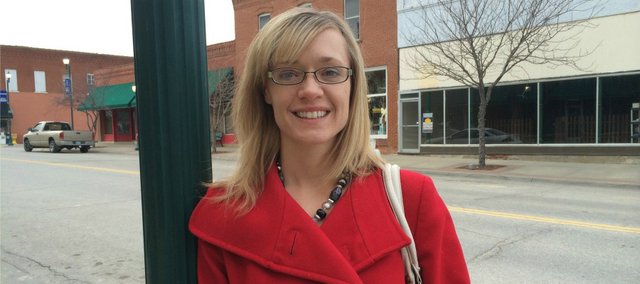 Name: Jennifer Jones-Lacy
Born: Jones-Lacy was born in Bellflower, Calif., a suburb of Los Angeles. Her family moved to Old Monroe, Mo., when her father got a job in the St. Louis area.
Family: Husband, Chris, and dog, Murphy, a beagle terrier mix.
Occupation: Tonganoxie assistant city administrator since September 2012.
Dream job as a child: News anchor. She actually earned a bachelor's degree in broadcast journalism from the University of Missouri.
"I learned quickly that wasn't the job for me," Jones-Lacy said. "I found it to be really intense and stressful."
She had more interest in the public sector and nonprofit management, also earning master's degree in public administration from MU.
Digging deeper: Jones-Lacy graduated in 2000 from Winfield High School in Winfield, Mo., before heading off to college. After graduation, she participated in a one-year management fellowship through the City of Kansas City, Mo., and was hired full-time after that.
Jones-Lacy also plays in a "moderately competitive" sand volleyball league in warmer months. She enjoys playing, but she has another hobby: travel.
She's visited Belgium, France, Germany, Austria, Ireland, England, Canada, Mexico and Jamaica. She's eager to someday visit Peru and South Africa.
"There's so many more," Jones-Lacy said. "I could keep going."
She said she thinks about Jamaica often. There's a perfume she purchased for the trip that she used while there. Whenever she wears it, the fragrance takes her back to the Caribbean.
"It's just unbelievably beautiful," she said of Jamaica. "It's such a beautiful place."
As for Tonganoxie, Jones-Lacy has gotten to learn about every aspect of running, which she said has been "very, very interesting."
"The people here are overall very friendly, sincere, understanding and welcoming," she said. I've been very impressed by the citizens here and their desire to make this a better place and improve it in whatever way."
More like this story