Huseman reaches state finals in Salina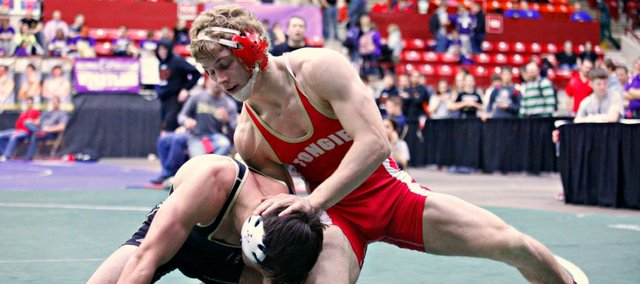 Salina — When Class 4A state wrestling action resumes Saturday, Asher Huseman will have a chance to etch a previously unwritten chapter into the Tonganoxie High history books.
Huseman, ranked No. 4 in the state in his weight class, went 3-0 in Friday's opening action, knocking off a pair of higher-ranked opponents to reach the 152-pound title match. He is just the second Chieftain to reach the state finals and could become the school's first-ever champion.
After defeating Chanute's Daniel Dees in the first round, 6-0, Huseman (33-5) met with No. 3 Scott Whitson of Buhler in the quarterfinals. Whitson grabbed an early lead, but Huseman battled back for a 12-5 victory.
The quarterfinal win set up a semifinal clash with top-ranked Paul Suhr of Andover Central. Huseman took a 3-2 lead after one period, added a one-point escape in the second and fended off Suhr for the duration of the third to become the first THS state finalist since current assistant coach Ross Starcher in 2005.
Huseman's finals matchup will also provide a shot at redemption, as he'll face No. 2 Lucas Lovvorn of Holton. The pair met at the Baldwin Invitational on Feb. 1 and at last week's regional tournament in Holton. Lovvorn won both matches by scores of 3-0 and 5-3, handing Huseman his only 4A losses of the season. Lovvon pinned his way to the state finals on Friday.
The Chieftains will also have three wrestlers alive in consolation action when Saturday's competition begins. Clayton Himpel (132), Luke Carey (195) and Zeke Kissinger (220) each won their openers, but fell into their respective consolation brackets after suffering losses in the quarterfinals. Each wrestler would finish third with four wins Saturday, but needs just two to guarantee a medal.
Garrett Martin (138), the team's only other state qualifier, was eliminated after going 0-2 on Friday.
As a team, THS enters Saturday in 20th place with 25.5 points. Holton currently leads the team standings with 85 points — 33.5 more than second-place Colby. Action will begin at 9 a.m. with consolation cross-bracketing.