Tonganoxie City Council agenda for March 3, 2014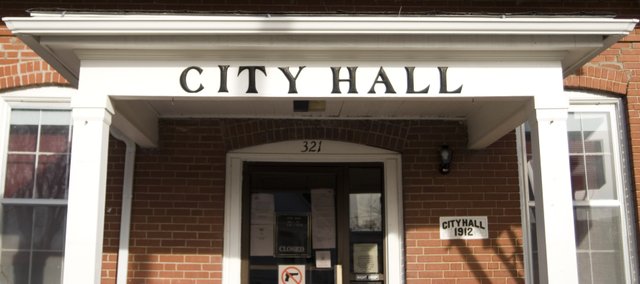 Tonganoxie City Council agenda for Monday, March 3, 2014
Open Regular Meeting, 7 p.m.
Council chambers, 321 Delaware
I. Pledge of Allegiance
II. Consent Agenda
a) Approval of Minutes – Regular Meeting dated February 17, 2014
b) Consider Approval of Bills - Approve Pay Ordinance A-1727
c) Consider approval of payment to Blue Cross and Blue Shield for employee
health benefits in the amount of $27,847.99.
d) Consider approval of payment to Design Energy Group for building inspection
observation at the elementary school in the amount of $2,500.
e) Consider approval of payment to King's Construction for Chieftain Trails
Construction in the amount of $35,340.80.
Open Agenda
"Members of the public are welcome to use this time to comment about any matter
relating to City business. The comments that are discussed under Open Agenda may or
may not be acted upon by the Council during this meeting. Please wait to be recognized
by the Mayor, then state your name and address and all comments are to be directed
to the chair."
III. Old Business
a) Update on Chieftain Trail
b) Update on utilities extension
c) Update on Hwy 24-40 traffic signal improvements
Executive session to discuss confidential matters of real estate acquisition
d) Discussion of the services of Water District #6 and #9
e) Update on Washington Street Sidewalk
IV. New Business
a) City Administrator Agenda
Action Items:
Request to enter into an agreement with a consultant for personnel policy
review and revision
Second Read: Ordinance No. 1373 Amendment to the Rebate Incentive
Program
Discussion and Presentation Items:
Discuss financial status of Water and Sewer Capital Reserves and work that
it supported by these funds.
Executive session to discuss confidential matters of real estate acquisition
b) City Attorney Agenda
Second Read: Ordinance 1374 - Discussion of nuisance code revision
c) Mayor Agenda
d) Council President Agenda
e) City Council Agenda
Retail Commercial Development Committee – Bill Peak
Infrastructure Committee – Jim Truesdell
Industrial Park Committee – Chris Donnelly
V. Information & Communications (No Action Required)
2014 Annual Repair Projects
Recurring Nuisance Report
VI. Adjourn