After holiday break,
THS

boys return to floor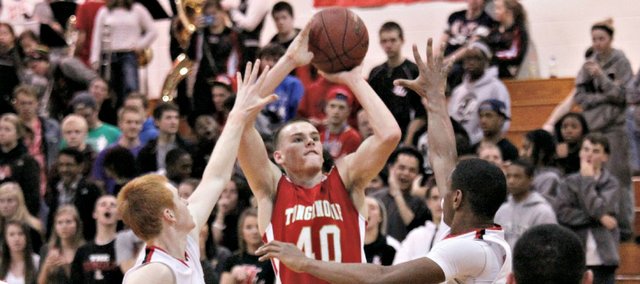 In two of their first three games, the Tonganoxie High boys squared off against some of the top teams in the state. The Chieftains opened the 2014 portion of their schedule this week, and the road doesn't get much easier.
Following tonight's home game against Bishop Ward, THS is set for a Friday road trip to Kaw Valley League rival Basehor-Linwood. The Bobcats entered January atop the Class 4A-1 rankings, making them the Chieftains' third ranked opponent this season. THS opened the season with losses at Lansing (No. 2 in 5A) and Piper (No. 7 in 4A-1) before defeating unranked Anderson County to close out 2013.
"I don't know many schools that would want to choose at Lansing, at Piper and at Basehor for their first three road games, but that's the schedule we're playing," coach Shawn Phillips said. "We definitely will have played against some tougher teams at their place.
"By going and playing on the road against those high-quality teams, it will reveal your weaknesses. Hopefully it gives us an idea of the things we need to focus on so, next time around, we can take care of business against them."
After coming up just short at Lansing and getting blown out at Piper, Phillips' squad ended December on a high note with a 56-28 win against ACHS at home. A home game against Ottawa was also scheduled before break, but was rescheduled for Feb. 1 because of inclement weather.
Practice resumed on Dec. 27 and, despite dealing with various injuries and illnesses, Phillips has seen his improvement among his senior-heavy squad.
"We haven't had a full day of practice with everybody yet, but the guys that are here have been working hard to try to get better," the sixth-year coach said. "Roles always change from year to year, and as time goes on, kids start to understand what their jobs are."
Sophomore Jack Dale has picked up where he left off after leading the team in scoring as a freshman. He averaged a team-best 13.7 points per game in the Chieftains' first three contests and was the only player to reach double figures in every game. Senior Tyler Ford also enjoyed a strong start to the season, averaging 10.7 points per game.
Fellow senior James Grizzle led the team in rebounding — one of Phillips' primary points of emphasis — in two of three games in 2013. He just missed a double-double at Piper with nine points and 10 boards.
After the trip to Basehor and a Tuesday visit to Bonner Springs, the Chieftains will open a string of nine consecutive home games, including the annual Tonganoxie Invitational from Jan. 20 to 25. THS will have played four straight KVL opponents by the time it opens tournament play, which, according to Phillips, should help prepare it for some of the state's stiffest competition.
"Our league is really strong. I've told a lot of people, if you can win our league, you've also got a chance to win state as well," he said. "Just about every night, you're playing a team with the ability to play in the state tournament."
Tonight's game against Ward, as well as Friday's game against BLHS, will begin immediately following the girls games, which are set for 5:45 p.m. both nights.