Growth continues for Chieftain girls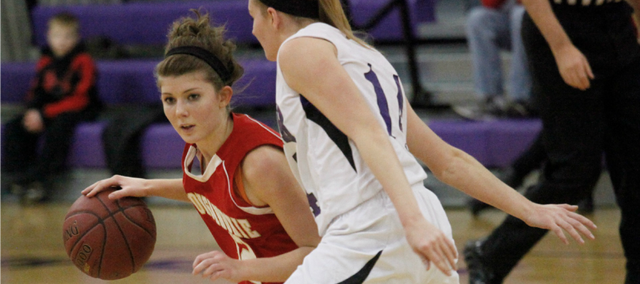 With nearly 60 percent of their offense gone to graduation, the Tonganoxie High girls experienced plenty of growing pains in the early stages of the 2013-14 season. As the year continues to unfold, though, the Chieftains hope those pains will turn to progress.
THS enters 2014 with three games under its belt, giving several new players some much-needed varsity experience. Led by senior veterans Emily Soetaert and Katelyn Waldeier, the team will try to build on its 1-2 start right out of the gate. It will host Bishop Ward at 5:45 p.m. today and will hit the road Friday for a rival showdown with Basehor-Linwood.
"It's getting better," coach Randy Kraft said. "Everybody is kind of figuring out their roles a little more, but we do need more production out of the kids that haven't been varsity players. Some of them are stepping up a little bit more in practice, so hopefully we'll see little bit more as the season goes on."
Kraft's squad opened season with back-to-back losses at Lansing and Piper, but got in the win column Dec. 21 with a 46-24 victory against Anderson County. Soetaert and Waldeier quickly emerged as the team's leading scorers, averaging 14.7 and 11 points per game, respectively.
Waldeier, the Chieftains' only returning post player, led the team in rebounding in all three games, including a career-high 19 at Lansing. She averaged 12.7 boards per contest in 2013.
For the rest of the roster, the season's opening weeks provided a first look at extended varsity time. Senior Kara Banks entered 2014 averaging 5.3 points per game — the best among new starters — while junior Tressa Walker and sophomore Cheyenne Ford aren't far behind with 4.3 and 4 points per game, respectively.
As players continue to establish their roles, they'll have the advantage of playing within the friendly confines of their home gymnasium. Aside from Friday's trip to Basehor and a Tuesday trip to Bonner Springs, the Chieftains will play at home for the remainder of January. A visit from Turner on Jan. 17 opens a nine-game homestand that includes the annual Tonganoxie Invitational, as well as a rematch of last year's sub-state championship game against Atchison.
"With a young group like this, hopefully we can get some good things happening at home, then carry that on into February when we have a lot more away games," Kraft said. "It seems like all we've done is practice this year. We've only played three games, so it's kind of hard to get into a flow or a rhythm. We need to get a couple wins and get on the right track and head into the month of January in good shape."