Chieftain wrestlers return to mat Thursday at Spring Hill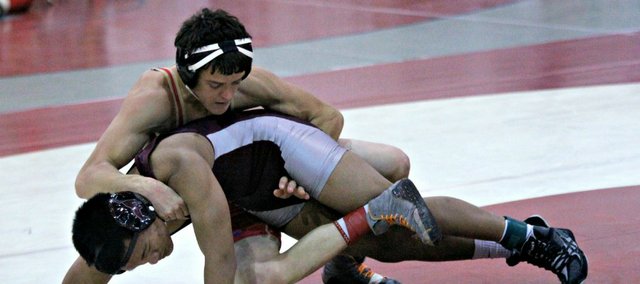 Fresh off a tournament title in its own gymnasium, the Tonganoxie High wrestling team has returned to the mat. With little time to rest between now and the end of the season, the Chieftains are ready to carry their strong 2013 finish into the new year.
Coach Jeremy Goebel's squad, which returned to practice on Dec. 30, will try to hit the ground running with two competitions in the next three days. It will travel Thursday to Spring Hill for a non-league dual, then hit the road Saturday for the Louisburg Invitational.
"For wrestling, it's a constant grind, day in and day out," said Goebel, whose Chieftains ended 2013 with their third straight Randy Starcher Memorial Invitational title. "I think the Christmas break, especially coming off our tournament, is great for the kids. I tell them to enjoy the time off because it kind of rejuvenates them to get back in here."
The first weeks of the season marked the first varsity action for several THS wrestlers, as the team looked to replace more than half of its regular starters from last year's regional championship team. Many underclassmen were moved around early in the year, but as the 2014 opener approaches, Goebel said the varsity roster is becoming more of a certainty.
The Chieftains' 2013 state qualifiers led the way early in the season. Clayton Himpel (132 pounds) and Asher Huseman (152) enter January as the team's only undefeated wrestlers with marks of 11-0 and 10-0, respectively. Meanwhile, Zeke Kissinger (220) is 9-1 with his only loss coming in the finals of the Wamego Invitational, and Luke Carey (195) is 7-4 with two tournament final appearances.
Other upperclassmen have enjoyed strong campaigns so far, as Joe Wolf (160) is 5-1 start in his return from a knee injury suffered last year, and Garrett Martin (138) is off to an 8-2 start.
Several younger wrestlers ended 2013 on a high note, including freshmen George Lang (106) and Jay Willcutt (120), who reached the finals in their respective weight classes at the Starcher Invitational. Sophomore Tyler Salmon (113) and senior Jordan Boudreaux (126) also factored into team scoring with fourth-place finishes.
"For the most part, going forward, we know where we're at," Goebel said. "Pretty much what our tournament team was at Tongie will be our team moving forward. Things can change week to week, but overall, we're starting to see things falling into place."
Thursday's dual, which includes the junior varsity and varsity squads, will begin at 5 p.m. The Louisburg Invitational is set for 9 a.m. Saturday and marks the first of six weekend competitions for THS between now and Feb. 21.
"It's one of those things where each week is a preparation for the end result," Goebel said. "We want to keep it going and keep pursuing weekly goals, monthly goals and end of the year goals. Every kid is doing what they have to do to reach those goals. If they continue to stay the course, great things are going to happen."