THS

wrestlers victorious at Spring Hill
Seven pins power Chieftains to first dual win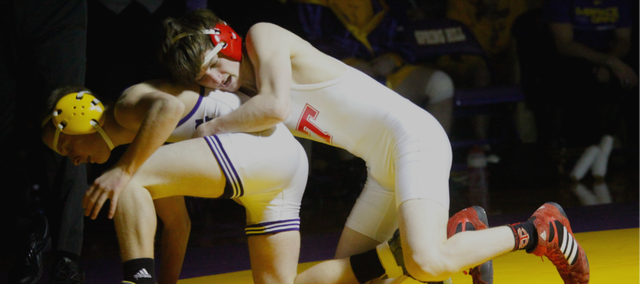 Even with two additional snow days, the recent holiday break did nothing to cool off the Tonganoxie High wrestling team.
Four pins in a row — three of them by first-year varsity wrestlers — set the tone early as THS earned its first dual win of the season Thursday at Spring Hill, 52-27.
The Chieftains, ranked fourth in the state among Class 4A schools, came out red hot in their first live competition of 2014 when freshman George Lang (106 pounds), sophomore Tyler Salmon (113) and freshman Jay Willcutt (120) each pinned their opponents before the end of the first period to give THS an 18-0 lead.
"It was important for those kids because they're our youngsters stepping into our lineup, and they're starting things off for us," coach Jeremy Goebel said. "From the first day to now, it's about continuing to get better. We need someone to set that tone, and they did that."
A pair of seniors kept the ball rolling, as Jordan Boudreaux (126) pinned Cody Slyter and Clayton Himpel (132) defeated Brandon Dofat by technical fall, 17-2.
After back-to-back wins by the Broncos, junior Asher Huseman (152) regained the Chieftains' early momentum with an 18-2 win against Lincoln Smith. Senior Joe Wolf (160) followed suit with a pin of Bill Slyter, giving THS an insurmountable 40-9 lead.
Spring Hill answered Wolf's pin with two pins of its own, but a pair of seniors and 2013 state qualifiers ended Tonganoxie's night on a high note. Luke Carey (195) and Zeke Kissinger (220) each pinned their opponents in the second round to cap off Chieftain scoring.
Spring Hill's Kainon Clark won by default because Tonganoxie was open at 285 pounds, but the final outcome had already been decided.
With the win, THS improves to 1-2 in dual competition this season. It won't dual again until a trip to Basehor-Linwood on Jan. 30 — a late addition to the schedule. The victory also assured the Chieftains' momentum from their team title at the Randy Starcher Memorial Invitational would carry over into 2014.
"It sets a really good tone," Kissinger said. "Our younger guys are getting more experience in the lower weights, and our experienced guys are getting more competition and getting better."
THS will next compete Saturday at the Louisburg Invitational. The Chieftains took second at the tournament last year after going a combined 3-3 in the championship round. Himpel and Huseman return as individual champions.
"Our upperclassmen, they kind of identify themselves as the leaders in terms of getting the younger kids ready to step on the mat," Goebel said. "I think, for us, to start off good is going to be important. The important thing is that we continue to do the little things right, and we'll reach our goals."
Tonganoxie 52, Spring Hill 27
106 — George Lang (TON) pinned Parker Johnson (SH), :26
113 — Tyler Salmon (TON) pinned Trevor Belcher (SH), 1:31
120 — Jay Willcutt (TON) pinned Brandon Voth (SH), :51
126 — Jordan Boudreaux (TON) pinned Cody Slyter (SH), 1:13
132 — Clayton Himpel (TON) def. Brandon Dofat (SH), 17-2
138 — Brad Smith (SH) def. Garrett Martin (TON), 6-1
145 — Blake Lewis (SH) pinned Heath Martin (TON), 1:39
152 — Asher Huseman (TON) def. Lincoln Smith (SH), 18-2
160 — Joe Wolf (TON) pinned Bill Slyter (SH), 1:02
170 — Blake Hampton (SH) pinned Tyler Warthen (TON), 1:03
182 — Austin Grate (TON) pinned Dylan Kroll (TON), :49
195 — Luke Carey (TON) pinned Dylan Thompson (SH), 3:07
220 — Zeke Kissinger (TON) pinned CJ Dyhouse (SH), 3:49
285 — Kainon Clark (SH) won by default
More like this story