Kansas City Connection: From the library to a classic delicatessen
In addition to its extensive collection of books and reading materials, the central branch of the Kansas City, Mo., library system serves as an exhibit space, event center, movie theater and a home for frequent author talks and visits.
The central branch, located in the First National Bank building at 14 W. 10th St. downtown, also houses the Missouri Valley Room and Special Collections, the Stanley Durwood film vault, and a library cafe. In nicer weather, the library offers a rooftop patio with plenty of sunlight and good views of the city.
This month, the library will feature works by Kansas University Film Professor John C. Tibbetts. His ink and watercolor portraits of many of the cinema stars he worked with on press junkets throughout his career.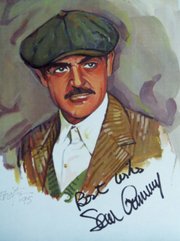 "They're a lifelong avocation of mine," Tibbetts said. "I was able to indulge my love of portrait painting with my many meetings with celebrities in the arts and humanities. The two just kind of went together."
Tibbetts said the portrait subjects, which include everyone from Luciano Pavarotti and Ray Bradbury to Sean Connery and Sophia Lauren, often thanked him for making them looked good. The "Stargazing" portraits and photographs will be on display at the library's main floor exhibition space throughout the month.
Next Sunday at 2 p.m., radio host and music historian Chuck Haddix will be discussing the subject of his book "Bird: The Life and Music of Charlie Parker," which came out last year.
Several other programs are scheduled at both the Central Library and the Plaza Branch just south of the Country Club Plaza at 4801 Main St., including children's story hours, dramatic performances, classic film series, historical seminars and educational workshops for adults. Check out a full listing of activities at kclibrary.org/events.
Milwaukee Delicatessen
Just a block away from the Central Library is a delicatessen that would look awfully familiar to anyone who lived or worked downtown about a century ago. Situated in the ground floor of what used to be the Cosby Hotel, the elegantly restored Milwaukee Delicatessen is a welcome (and tasty) rejuvenation of the area's past. The deli is operated by the owners of Pizza 51, which makes large-slice pizza similar to Papa Keno's, but the real treats here are the Reuben, the pastrami sandwich and the panini, at least from what I've tried so far.
The deli, at 101 W. Ninth St., is open from 11 a.m. to 10 p.m. on weekdays and stays open until midnight on weekends. The lunch hour is bustling, and in the evening hours the Milwaukee Delicatessen Company has more of a neighborhood pub feel. Visit milwaukeedelikc.com for a full menu.
Concerts
Three of the area's most interesting bands will share the stage this Friday night at Harling's Upstairs Bar & Grill (well, sort of — the comfortably shabby Irish pub at 3941 Main doesn't exactly have a stage).
Dream pop trio The Shy Boys will be celebrating the release of their first full-length album, and will be joined by local art/punk outfit Lazy, whose 2013 vinyl release was a Kansas City Connection favorite. Rounding out the diverse lineup will be Metatone, whose sound is an appealing pastiche of international rhythms, whimsical melodies and cosmic-themed lyrics. Tickets are $7.
Other concerts of note include country artist George Strait, whose "The Cowboy Rides Away" tour will hit the Sprint Center on Saturday at 7:30 p.m. Eric Church will join George for his Kansas City performance, which costs no less than $81.50 via sprintcenter.com.
The Classics Uncorked series at the Kansas City Symphony continues Wednesday at the Kauffman Center for the Performing Arts with "Fiesta," featuring Rimsky-Korsakov's "Capriccio Espagnol," Ravel's "Alborada del gracioso," Boccherini's Cello Concerto in B-flat. Tickets cost $25, which includes a glass of wine or champagne following the concert.
For the much younger set, the Symphony will be presenting a musical presentation of Dr. Seuss' "Green Eggs and Ham," as well as Mozart's "Toy Symphony" on Sunday at 2:30 p.m. Adult tickets start at $20.
Finally, don't miss the chance to purchase tickets for the following weekend's performance of Mahler's Ninth Symphony at 8 p.m. Jan. 24 and 25 and at 2 p.m. Jan. 26. Kansas City Symphony conductor Michael Stern brings a special feeling and intensity to Mahler's works, and the Ninth is one of the composer's most dramatic. If you're on a budget, pick up a seat in the choral loft for $28 after fees.
— Lucas Wetzel is a writer and editor from Kansas City, Mo. Know of an upcoming event in Kansas City you'd like to see featured in Kansas City Connection? Email us about it at kcconnection@ljworld.com.