Tonganoxie legislative forum touches on education, taxes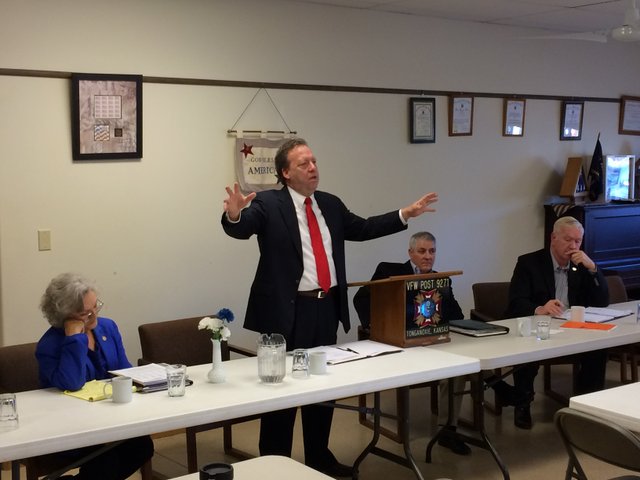 Education funding and taxes took center stage at Saturday's legislative coffee at the VFW Post Home in Tonganoxie.
Rep. Connie O'Brien, R-Tonganoxie, and Sen. Tom Holland, D-Baldwin City, as well as Rep. John Bradford, R-Lansing, and Sen. Steve Fitzgerald, R-Leavenworth, attended the forum, which served as introduction to the latest session.
Legislators discussed the pending lawsuit against the Legislature over school finance and the uncertainty that comes with it.
Holland said the state needed to fulfill its promise to provide suitable funding, while Bradford said there were districts that needed to be more efficient.
"It doesn't make sense because schools are sitting here with huge cash reserves that they have access to spend," Bradford said. "We have flat growth in scores."
Fitzgerald said reform is needed, but he thought funding overall was adequate and that the state needed "better education outcomes," also noting that some areas of the state were more disadvantaged than others.
"I think we're there," he said. "They've got enough money. We can talk about rearranging chairs."
When discussions moved to taxes, Holland again differed in opinion from his Republican colleagues.
Holland voiced concerns about Gov. Sam Brownback's reductions in income taxes. He said it simply was a shift in the tax burden that was falling harder on the middle class and poor.
But Fitzgerald disagreed.
The Leavenworth senator said there were early indicators of the policy working, such as 22,000 new jobs in Kansas.
And during the past 10 years, he said, private sector jobs have declined and public jobs increased.
"Private sector pays for everything," Fitzgerald said. "Feed the goose. Get more eggs out of it. We need to grow the private sector in Kansas. It's crucial."
The VFW, which sponsors the legislative forums with First State Bank and Trust throughout the year, plans to have its next legislative forum in April.