THS

boys win, girls fall at Bonner Springs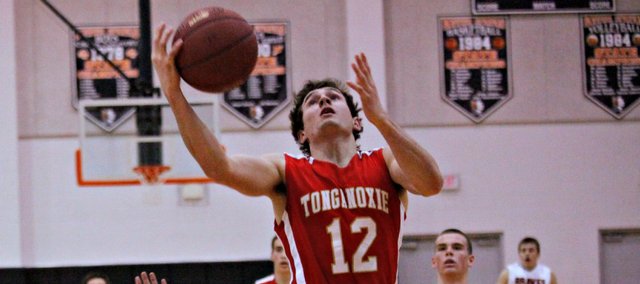 Bonner Springs — After watching his team allow 30 free throw attempts last week at Basehor-Linwood, Tonganoxie High coach Shawn Phillips issued a challenge to his players: Play defense without fouling. The Chieftains were put to the test Tuesday at Bonner Springs, and they passed with flying colors.
The THS boys trailed by three points entering the fourth quarter, but reeled off 24 points in the fourth for a 62-54 win against the Braves.
After watching a two-point halftime lead disappear, Phillips' squad entered the final period on the wrong side of a 41-38 score. The deficit was short-lived, though, as THS (3-3, 2-3 Kaw Valley League) scored the first nine points of the quarter to take a lead it wouldn't relinquish. BSHS hung around the final minutes, but never got closer than two possessions.
"We thought we could get some layup opportunities if we just took care of the ball," Phillips said. "I thought we did that really well in the fourth quarter, for the most part. When you take care of it and shoot a high percentage, that's a good way to finish games."
The Chieftains, who were outscored by 11 at the free throw line at BLHS, went 20-of-34 from the stripe in Tuesday's victory — a 12-point advantage over the Braves (8-of-9). THS entered the fourth quarter with just two team fouls, and BSHS (3-5, 1-4) didn't have a bonus situation until the game's final seconds.
The Braves got off to a hot start, scoring the game's first seven points for an early advantage, but THS responded with 10 straight to take its first lead of the game. The Braves battled back to take a 16-13 lead at the end of the opening period. Once again, though, the Chieftains had an answer. They used a 10-5 run to go in front by two scores and led by two at the break, 28-26.
Seniors James Grizzle and Tyler Ford led the offensive attack with 13 points each. They were joined in double figures by sophomore Jack Dale and junior Jared Sommers, who had 11 and 10 points, respectively. Senior Ben Johnson narrowly missed a double-double with nine points and a team-high eight rebounds. Brenden Dotson paced Bonner Springs with 12 points.
With the win, THS improves to 2-1 in 2014. It will return home Friday to face Turner in the first of a nine-game homestand, which includes next week's Tonganoxie Invitational.
"We've been on the road a lot to start the year," Phillips said. "It'll be nice to play at home, and hopefully we can build some momentum and really start to play well."
Friday's game will begin immediately following the girls game, which is set for 5:45 p.m.
Score by quarters
Tonganoxie 13 15 10 24 — 62
Bonner Springs 16 10 15 13 — 54
Individual scoring
TONGANOXIE — James Grizzle 4-5 5-6 13, Tyler Ford 3-6 6-8 13, Jack Dale 2-7 7-12 11, Jared Sommers 4-4 1-4 10, Ben Johnson 4-8 1-4 9, Brady Swedo 1-1 0-0 2, Eric Tate 1-1 0-0 2, Carl Hecht 1-2 0-0 2.
BONNER SPRINGS — Brenden Dotson 4-11 3-4 12, Jordan Jackson 3-7 0-0 9, Devante' McGee 2-3 2-2 7, Joshua Adams 2-2 1-1 5, Antonio Roark 1-2 2-2 5, Travis Dooley 2-7 0-0 5, Jonah Freese 2-6 0-0 4, Aaron McGee 2-10 0-0 4, Zshavon Dotson 1-3 0-0 3.
BONNER SPRINGS GIRLS 55, TONGANOXIE 47
The THS girls trailed by just two points at halftime, but watched the deficit grow to nine in the third quarter and couldn't recover late.
Bonner Springs (6-2, 4-1 KVL) clung to a 25-23 advantage at the break, but extended its lead to 41-32 by the end of the third. The Chieftains (2-4, 1-4) got within five on several occasions in the final period, but that's as close as they got. THS forced several turnovers to stay in the game, but couldn't create enough scoring opportunities in the final minutes.
"You can't let them go on the runs, and I thought our kids did a great job," coach Randy Kraft said. "When they did get a run and stretch it out a little bit, we got a couple stops and scored a couple times to get it back to five. We just couldn't get over the hump in the last three or four minutes."
In total, Kraft's squad forced 23 Bonner Springs turnovers, but the Braves made THS pay under the basket. They outrebounded the Chieftains by a 51-24 margin and capitalized on several second-chance opportunities throughout the contest.
BSHS opened the game with two quick buckets, but Tonganoxie responded with a 12-2 run and led at the end of the opening period, 14-11. The hot start didn't last, though, as the Braves regained the lead early in the second quarter and never trailed again. THS didn't let Bonner Springs pull away before the break, as they went into the locker room down by just two, 25-23, giving itself a chance for a second-half comeback.
"We hit a couple shots early and ran our stuff, and we never let the ball game get away from us," Kraft said. "We have to keep it close until the end, and then you never know what's going to happen."
Senior Kara Banks led THS in scoring for the second straight game, this time with 13 points, including an 11-of-15 effort from the free throw line. Fellow senior Katelyn Waldeier added 12 points and junior Tressa Walker 10. Bonner Springs' Kaleigh Taylor led the Braves with 13 points, 11 of which came before halftime.
Score by quarters
Tonganoxie 14 9 9 15 — 47
Bonner Springs 11 14 16 14 — 55
Individual scoring
TONGANOXIE — Kara Banks 1-4 11-15 13, Katelyn Waldeier 5-8 2-4 12, Tressa Walker 3-5 2-4 10, Emily Soetaert 2-4 5-7 9, Sarah Ahart 0-1 3-4 3.
BONNER SPRINGS — Kaleigh Taylor 6-8 0-0 13, Julianne Jackson 3-14 4-6 10, Kyliea Jarrett 3-3 1-4 7, Miyah Hightower 1-1 4-4 6, Caitlin Reed 2-5 2-3 6, Abrise Sims 2-3 0-0 4, Mikaela Bennett 2-9 0-0 4, Allie Ledbetter 1-2 0-0 2, Morgan Lawrence 1-2 0-0 2, Tanya Hernandez 0-2 1-3 1.