THS

fourth at Louisburg as Himpel nears wins record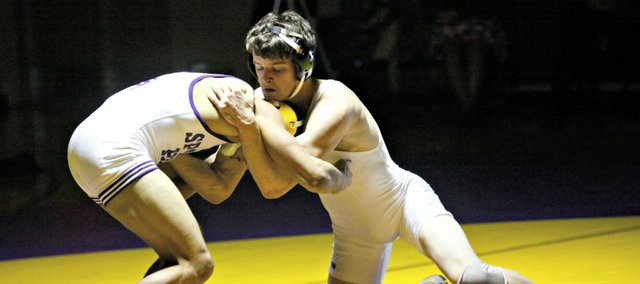 Since he first donned a Tonganoxie High uniform, Clayton Himpel knew he wanted to graduate as the school's all-time wins leader. It's been more than three years since he started working toward that goal, and the ultimate prize is finally within reach.
The Chieftain senior went 5-0 Saturday at the Louisburg Invitational, improving to a perfect 17-0 on the season. His most recent victory, a pin of Lansing's Jordan Girard in the 132-pound championship match, brought his career total to 131 — just 10 shy of the record held by 2005 grad and current assistant coach Ross Starcher.
"I've been chasing that record since freshman year," said Himpel, who surpassed 2009 grad Matt Brock (129 wins) for second place on the school's career list. "It's the one thing I've wanted to beat. Being 10 away, I'll hopefully be able to beat it in the next couple weeks or so."
Himpel is the team's lone remaining undefeated wrestler. He currently leads the team in total points (110.5), takedowns (29), three-point near falls (32), two-point near falls (12) and technical falls (8).
As a team, the Chieftains finished fourth with 160.5 points — 111.5 behind champion Raymore-Peculiar (Mo.). Himpel was one of four THS wrestlers to reach the finals over the weekend, but the only one to leave with a gold medal.
Junior Garrett Martin (138 pounds), junior Asher Huseman (152) and senior Joe Wolf (160) also reached the championships in their respective weight classes, but came up short in their final matches. Huseman suffered his first loss of the season and Wolf fell for just the second time. They are now 14-1 and 9-2, respectively.
"One thing we told the kids when we got back was, no one is going to remember Louisburg," coach Jeremy Goebel said. "We've got to continue to push through this. In this sport, there's going to be adversity at times, and this is one of those adversity checks. Every week is a fresh start. We'll come back, clear our heads and get ready to go this week."
Other top-four finishers at LHS were freshmen George Lang (third at 106 and Jay Willcutt (fourth at 120) and seniors Luke Carey (fourth at 195) and Zeke Kissinger (fourth at 220).
The Chieftains will return to the mat Friday for one of the state's most prestigious tournaments in the Basehor-Linwood Bobcat Classic. The two-day, double-elimination event regularly draws state championship-caliber wrestlers from across the Midwest. This year's tournament includes teams from Kansas, Missouri, Illinois and Colorado.
"You could have six state champ in one bracket," Himpel said. "It's just whoever brings it that day. It can be nerve-wracking because every match is a big match, really."
Competition will open at 11:30 a.m. Friday and resume at 10 a.m. Saturday. Not all wrestlers will advance to the second day of the tournament.
"Whoever is our varsity man, we're going to get him in there for six minutes at a time," Goebel said. "It's nice to have this tournament close to home, and it's a good tournament for kids to be a part of. It's no different than any tournament we're preparing for. There's more teams than a normal tournament, but we just have to go and compete. It only enhances our competitiveness and our fire to get better."
Overall team scores
Raymore-Peculiar (Mo.), 272; 2. Lansing, 250; 3. Rockhurst (Mo.), 237; 4. Tonganoxie, 160.5; 5. Louisburg, 110; 6. Olathe South, 105; 7. Joplin (Mo.), 90.5; 8. Blue Valley West, 83; 9. Parsons, 57; 10. Piper, 32; 11. Wyandotte, 17.5.
THS individual results
106 — George Lang, 3-2 (fifth place)
113 — Tyler Salmon, 0-4 (seventh place)
120 — Jay Willcutt, 2-3 (fourth place)
126 — Jordan Boudreaux, 2-3 (sixth place)
132 — Clayton Himpel, 5-0 (first place)
138 — Garrett Martin, 4-1 (second place)
145 — Heath Martin, 1-4 (eighth place)
152 — Asher Huseman, 3-1 (second place)
160 — Joe Wolf, 3-1 (second place)
170 — Tyler Warthen, 2-3 (seventh place)
182 — Dylan Kroll, 0-4 (seventh place)
195 — Luke Carey, 1-3 (fourth place)
220 — Zeke Kissinger, 3-2 (fourth place)