McLouth, Tonganoxie churches squaring off for annual Souper Bowl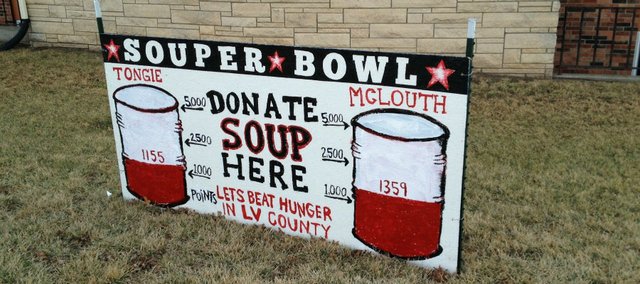 Though Sunday's games determined that Seattle and Denver would be meeting in the Super Bowl, two local "teams" have known of their Souper Bowl opponent for some time.
Tonganoxie and McLouth United Methodist churches are squaring off for the third time for their annual Souper Bowl drive.
Church members are working to collect soup cans for local pantries in a friendly competition.
Tonganoxie won the first year and then McLouth collected more cans last year to win the friendly competition.
McLouth is seeking support to help fill the shelves of seven area food pantries, while Tonganoxie's cans will go to Good Shepherd Thrift Store and Food Pantry and the Food for Friends program in the Tonganoxie school district.
Both teams earn extra points for heavier soups and pastas, such as chunky-style soup, stew and chili. Pasta items such as ravioli or canned spaghetti also are worth more points.
Both churches started the drive this past weekend and are accepting cans through Feb. 2 at their churches.
Tonganoxie also has announced that people can drop off donations at Tonganoxie Nursing Center, First State Bank and Trust locations in Tonganoxie, Dollar General, Jammin' Java and the Downtown Drugstore.
Residents also can make monetary donations and church members will purchases soup with the funds.
Tonganoxie church members have organized two additional fundraising opportunities for soup.
On Jan. 28, Gambino's is offering a fundraiser night. If people order pizza and specify that they want to support the Tonganoxie UMC's soup drive, 20 percent of the order will go to the church.
Members also will be serving as car hops 5-8 p.m. Jan. 31. All tips and a percentage of sales will go to the Tonganoxie church for its drive.
The competition will end Feb. 2.
The McLouth church conducted a can drive in correlation with the Super Bowl for several years before teaming up the past two years with its Tonganoxie counterpart.