McLouth runs by Heritage in semifinal victory
Bulldogs to face Valley Falls in
MIT

finals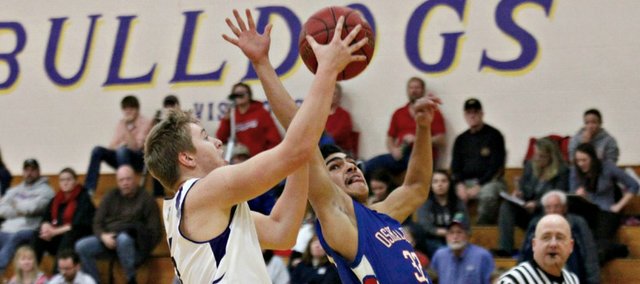 Saturday schedule
7th place game
ACCHS vs. Oskaloosa, 4 p.m. (purple gym)
5th place game
JCN vs. Maranatha, 4 p.m. (gold gym)
3rd place game
Riverside vs. Heritage, 5:30 p.m. (gold gym)
Championship
McLouth vs. Valley Falls, 7 p.m. (gold gym)
A 16-2 first quarter gave the McLouth High boys all the momentum they needed in a 69-50 win against Olathe-Heritage Christian in Friday's McLouth Invitational Tournament semifinal action.
The Bulldogs (7-3) allowed just a single field goal late in the opening period. They extended their lead to 20 at halftime, 33-13.
"We really worked hard the last two days on some defensive things," said coach Jason Graf, whose Bulldogs have now won six in a row. "To win championships, you've got to become a defensive team. We played about as good defensively as I think we can."
Heritage, a 79-75 winner against MHS in overtime on Dec. 6, cut the lead to 16 by the end of the third quarter. The Chargers never mounted a serious comeback threat, though, as McLouth reeled off 22 points in the fourth quarter to maintain control.
Drew Cerny and Dylan Dover led the Bulldogs with 16 points apiece and Wyatt Hermann added 10. Jeremy Schutte led Heritage with 14. Jack Feighner, who torched McLouth for 29 points in the teams' first meeting, managed just five in Friday's rematch. Graf credited senior Nick McAferty for keeping the Chargers' top scoring threat in check.
With the win, the Bulldogs advance to the finals, where they'll face Valley Falls at 7 p.m. Saturday. The Dragons, currently ranked No. 5 in the Class 2A state poll, reached the championship game with a 65-59 win Saturday against Wathena-Riverside.
"Valley is No. 5 in the state for a reason," Graf said. "We'll see what happens tomorrow night. If we play for four quarters like we did in the first quarter (Friday), we'll have a good chance to win a championship."
It wasn't immediately known whether McLouth has ever reached the finals of its home invitational — now in its 27th year — but the Bulldogs have never won a title in tournament history.
Friday's other scores
Valley Falls 65, Wathena-Riverside 59 (championship semis)
Jefferson County North 50, ACCHS 32 (consolation semis)
Maranatha 61, Oskaloosa 49 (consolation semis)