Slow start costs
THS

boys in loss to Eudora
Chieftains to play Atchison in fifth-place game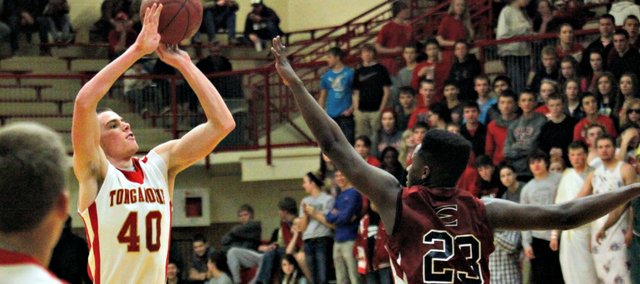 Saturday schedule
Girls 7th place game
Eudora vs. Jeff West, 9 a.m.
Girls 5th place game
Atchison vs. De Soto, 10:30 a.m.
Boys 5th place game
Tonganoxie vs. Atchison, noon
Girls 3rd place game
Tonganoxie vs. Lansing, 1:30 p.m.
Boys 3rd place game
BVSW vs. Jeff West, 3 p.m.
Girls championship
Silver Lake vs. Chanute, 4:30 p.m.
Boys championship
Eudora vs. De Soto, 6 p.m.
Another slow start Friday against Eudora left the Tonganoxie High boys still searching for their first win in their home tournament.
THS boys couldn't rebound from a 13-point first half, as they dropped a 56-46 decision to Eudora in the final game of pool play.
The Chieftains (4-5) fell behind by seven points after one quarter, and the Cardinals continued to gain separation before the break. EHS took advantage of nine first-half turnovers and went into the locker room with a 28-13 advantage.
"The first half, we were awful," coach Shawn Phillips said. "The ball was stuck in our hands and we tried to force the issue too much, which led to turnovers. They're very good in transition, so that led to easy buckets for them."
Phillips' squad cut the deficit to 10 multiple times in the second half, but was never able to get within single digits. The Cardinals stretched their lead to as many as 18 in the third quarter, but THS did enough on defense to stay within striking distance late. Eudora shot just 37.5 percent from the field after halftime, but the Chieftains weren't able to capitalize on the other end of the court.
"When we actually made them run offense in the half court, I thought we did a pretty decent job, but we've got to do a better job of executing," Phillips said. " If you're going to beat good teams, you've got to value every possession, especially when you dig yourself into a hole."
Eudora freshman Mitchell Ballock led all scorers with 19 points and pulled down a game-high 10 rebounds for a double-double. Andrew Ballock and Austin Downing joined Mitchell Ballock in double figures with 16 and 14 points, respectively. With the win, EHS advances to the title game, where it will face De Soto in a battle of Frontier League schools.
Jack Dale led Tonganoxie with 17 points and Tyler Ford added 11 in the loss. THS will face Atchison in the tournament's fifth-place game at noon Saturday. AHS defeated Holton in a consolation semifinal on Friday, 65-54.
"If we're going to bounce back, it's got to be as a group," Phillips said. "We haven't been playing that well, but if we're going to get over the hump, it's going to take a joint effort."
Score by quarters
Eudora 14 14 16 12 — 56
Tonganoxie 7 6 17 16 — 46
Individual scoring
EUDORA — Mitchell Ballock 6-19 7-9 19, Andrew Ballock 5-11 4-6 16, Austin Downing 6-11 2-6 14, Grant Elston 1-2 0-0 3, Laken Straub 1-1 0-0 2, Skyler Shockley 1-5 0-0 2.
TONGANOXIE — Jack Dale 5-12 6-8 17, Tyler Ford 4-6 1-3 11, Carl Hecht 3-5 1-2 7, James Grizzle 2-5 1-1 5, Ben Johnson 2-4 0-2 4, Eric McPherson 0-2 1-2 1, Jared Sommers 0-4 1-2 1.
Friday's other scores (all boys)
Atchison 65, Holton 54
De Soto 48, Blue Valley Southwest 43