Tonganoxie girls can't hold on to early advantage, lose to Silver Lake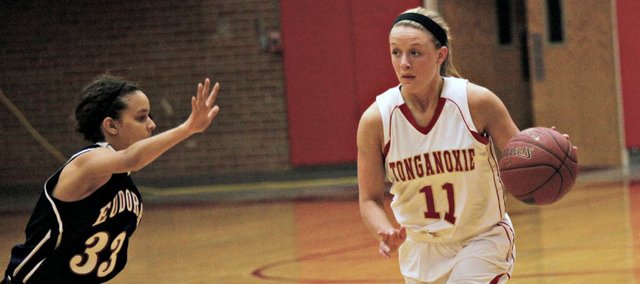 Tonganoxie's full-court press was forcing turnovers.
Meanwhile, THS was handling Silver Lake's press and getting timely buckets.
The Chieftain girls led the Eagles, 20-5, entering the second quarter.
Silver Lake, though, would claw back.
SLHS cut the Tonganoxie lead to single digits in the second quarter and trailed, 28-21 at half.
And then came the big surge.
Silver Lake went on a 12-0 run in the third quarter, took the lead and never looked back.
The Eagles went on to win, 55-47, and advance to the championship game against Chanute on Saturday.
THS coach Randy Kraft said his team did a good job forcing Silver Lake out of its game, but eventually the Eagles settled down and their perimeter game started to heat up.
SLHS went just 2-for-6 in the first half, but 4-for-6 in the second half.
And while the Eagles' backcourt was settling in during the second half, the Chieftains had to deal with foul trouble.
Point guard Emily Soetaert fouled out early in the fourth quarter after being whistled for pushing off on a defender. She still finished with a team-high 14 points.
Her exit was a turning point, Kraft said.
"She's a big part of what we do," Kraft said.
A few possessions later, fellow guard Tressa Walker was whistled for her fifth and final foul, one that mirrored Soetaert's last infraction.
She finished with 11 points.
Tonganoxie outrebounded Silver Lake, 33-23, but the Eagles' bench outscored THS, 9-2.
Silver Lake's Ashlyn Lane scored a game-high 24, while Alexis Gifford scored nine, all on three-point shots.
It was a tough loss, but Kraft said his team showed signs of progress.
"I think that was one of the best games we've played," Kraft said.
The THS coach said the Chieftains (4-5) just had to get past what he called mental lapses on the court.
Tonganoxie's biggest lead of the night was 18 points at 24-6. The game had four lead changes and two ties.
It also had two technical fouls: SLHS assistant Loren Ziegler and then Kraft, both in the second quarter.
THS will play Lansing for third place at 1:30 p.m. Saturday.
SILVER LAKE 55, TONGANOXIE 47
Silver Lake 5 16 21 13 — 55
Tonganoxie 20 8 11 8 — 47
Silver Lake — Taylor White 2, Madison Wegner 8, Kaitlyn Shoemaker 3, Ashlyn Lane 24, Alexis Gifford 9, Katlyn Kirkwood 3, Jordan Yoder 2, Logan Bledsoe 4.
Tonganoxie — Cheyenne Ford 2, Emily Soetaert 14, Tressa Walker 11, Katelyn Waldeier 12, Sarah Ahart 2, Kara Banks 6.
Thursday's other scores (all girls)
De Soto 43, Jeff West 17
Chanute 52, Lansing 40
Atchison 43, Eudora 25