Tonganoxie church takes Souper Bowl lead entering final days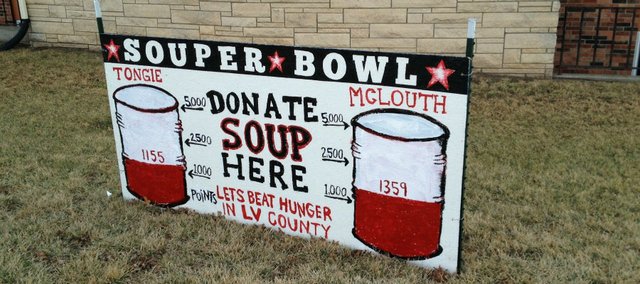 The Tonganoxie and McLouth United Methodist churches continue their friendly competition to help combat hunger locally.
As of Sunday, McLouth has amassed 1,560 cans, good for 2,400 points. Tonganoxie, though, has 2,107 cans for 3,602 points.
Varying points are awarded depending on the type of soup donated.
McLouth opened up an early lead, but Tonganoxie responded this past week.
Final totals will be determined Sunday.
Rev. Jeff Clinger said that he recently told his congregation that if Tonganoxie wins the competition, he would have his head shaved and will be given a bright pink mohawk.
He shaved his head last two years ago after Tonganoxie won the competition. McLouth won the drive last year.