Tonganoxie fire chief offers list of precautions following weekend blazes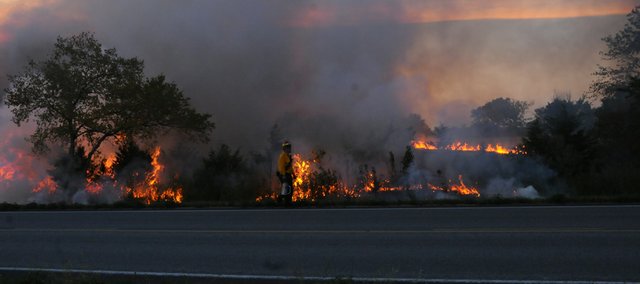 Sunday provided a prime opportunity for area residents to get out and enjoy the warmer weather.
It also, as Tonganoxie Fire Chief Dave Bennett put it, provided the perfect storm for fires.
Area fire departments were busy Sunday tending to fires, from a massive fire that approached Kansas Highway 10 in Eudora to grass and structure fires in Leavenworth County.
Bennett said the dry conditions, coupled with high winds, intensify any fires.
"Fifty mile-per-hour winds can literally consume acres within minutes," Bennet said. "Especially in dry conditions."
The fire near Eudora burned about 50 acres. A burn pile, from which wind picked up an ember, was thought to be that fire's cause.
In one case in the county, fireplace embers put out earlier that day ignited a woodpile, which spread to a house.
In another case, a detached garage caught fire. The blazed destroyed the garage and the car inside. Cause of that fire was unknown.
Bennett said it could be something simple that can start fires in such dry conditions, such as someone burning trash on an unseasonably warm winter day.
Bennett said residents should pay attention to any wind advisories before planning any burning. As for in the home, he said residents should make sure chimney flues are clean, especially if burning green wood. He recommends that certified chimney sweeps inspect residents' flues, at least once a year, possible twice if burning wood at a high volume.
The Tonganoxie fire chief said various fire departments were providing mutual aid into the morning Monday. Bennett got home from tending to fires about 5 a.m. Monday, he said.
"We were tending to grass fires while it was snowing," Bennett said of the drastic weather change Sunday evening. "It was bizarre world for a while."