McLouth's Patterson, McCown sign with college softball teams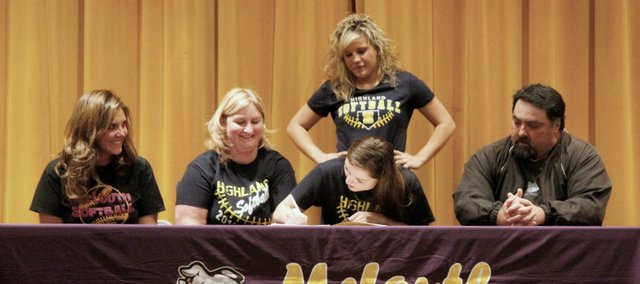 McLouth — The ever-growing list of college softball players produced by McLouth High received two new additions earlier this month.
Bulldog seniors Amber McCown and Konner Patterson have solidified their plans to play at the next level. McCown has signed with Southwestern College in Winfield, while Patterson will continue her career at Highland Community College. The signings are McLouth's 24th and 25th since 2006.
McCown, who split time at catcher and outfielder last season, also plays competitively in the offseason with the Topeka Roughnecks. She'll join a Moundbuilder program that went 15-23 in 2012-13.
"I actually found them. I went to a clinic and one of their coaches was there, then I ended up going down there a few times and meeting all the softball girls," McCown said. "We just emailed back and forth at first, then came upon an agreement for my scholarship."
McCown likely will split time at two positions again in her final high school season, but said she's only discussed catching with Southwestern coaches. She plans to major in marine biology — a rare offering in the heart of the Midwest.
"Southwestern was one of the only places around that had what she wanted to study," MHS coach Ballard Patterson said. "Amber is a good kid that has worked really hard for us. She's done well in her competitive program, and we wish her all the luck in the world. It was a great fit for her."
Konner Patterson, an infielder, has been regarded as one of the state's top prospects since starting her high school career. She was a second-team All-State selection as a freshman before earning back-to-back first-team nods as a sophomore and junior.
A daughter of her high school coach, Konner led the team last year with 11 home runs and 42 runs batted in in just 21 games.
"I'm very proud of Konner and all she's accomplished," Ballard said. "Anybody who's seen her play knows that Konner can play. It's hard to be a father and a coach and keep them apart. I'm a lot tougher on her, and she's never disappointed me."
When not with the Bulldogs, Konner plays competitively with the Olathe Rockets. She'll join a Highland program recently occupied by a former high school teammate in 2011 MHS grad Jessie Troupe.
"Jessie went there, so I kind of followed her and watched her play there, then I got to know the coaches," Konner said. "They contacted me and, from day one, they definitely made me feel like family. It was a huge process and took a lot of time, so it's good to get it done and over with so I can get there and play some softball."
Troupe helped the Scotties go 39-10 last season, including a 2-2 mark at the NJCAA Division II national tournament.
Both seniors will try to end their careers with a state bid this spring. The Bulldogs made the state cut in 2011, but have fallen short in the regional finals each of the last two seasons.
"It's going to take a lot of hard work, but I hope we can finally get it done," Konner said. "I just hope we can get it in our heads that we can do it, then go out there and do the best we can. That's all I ask."