Slow starts, missed chances cost
THS

boys in sixth-place tourney finish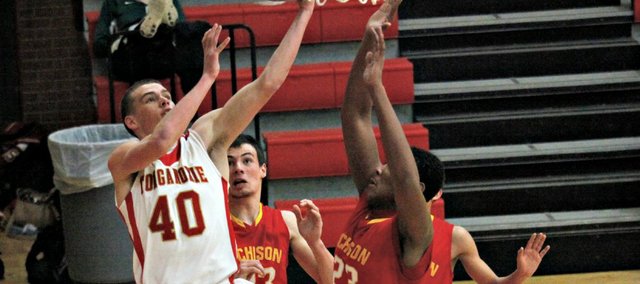 Invitational in photos
A photo gallery from Tonganoxie's tournament games is available on our Facebook page.
Final standings
Eudora
De Soto
BVSW
Jeff West
Atchison
Tonganoxie
Holton
All-tournament team
Brent Roberts (JW)
Connor Mickens (JW)
Steven Anderson (BVSW)
Matt Wilkinson (BVSW)
Garrett Beecher (HOL)
ER Steffey (BVSW)
Dalton Verhulst (DES)
Austin Downing (EUD)
Andrew Ballock (EUD)
Quinton Verhulst (DES)
Jerome Luster (ATC)*
Mitchell Ballock (EUD)+
*Most inspirational player
+Tournament MVP
Slow starts and missed opportunities were constant themes throughout the Tonganoxie Invitational, as the Chieftain boys were left wondering what could have been.
THS suffered three straight losses at its home tournament, finishing sixth in the seven-team field. After suffering back-to-back pool play losses to Jeff West and Eudora, the Chieftains (4-6) fell to Atchison in Saturday's fifth-place game, 62-44.
Coach Shawn Phillips' squad entered Saturday's second half down by six, 30-24. A 3-pointer by Brady Swedo cut the lead to three just more than three minutes into the period, and the Chieftains got a chance to tie it up or draw within one on the next possession. However, Tyler Ford came up short on a runner, and Atchison scored the next eight points to take control.
"When you give yourself opportunities, you have got to cash in," Phillips said. "We either took a bad shot, forced something or turned it over. Then, we gave up easy shots on the other end."
AHS led by at least nine the rest of the way and held the Chieftains scoreless for the game's final four minutes.
The teams battled for momentum in the opening minutes before Atchison opened up an 18-13 lead at the end of the first quarter. The Chieftains failed to make up any ground before the break, as they let the deficit reach three possessions just before intermission.
The loss bore a striking resemblance to a 56-46 setback in Friday's pool play finale against eventual tournament champ Eudora. THS cut a 15-point halftime lead to 10 on several occasions, but offensive mishaps allowed the Cardinals to maintain a double-digit lead.
EHS set the tone early, forcing nine first-half turnovers and racing out to a 28-13 advantage at halftime.
"The first half, we were awful," Phillips said. "The ball was stuck in our hands and we tried to force the issue too much, which led to turnovers. They're very good in transition, so that led to easy buckets for them."
Eudora freshman Mitchell Ballock, later named the tournament's most valuable player, scored a game-high 19 points.
The Chieftains opened tournament play Tuesday with a low-scoring, 44-35 loss to a Jeff West team led by THS baseball coach Mitch Loomis. The Chieftains, who entered the game averaging 61.6 points per contest managed just four first-quarter points and never found an offensive rhythm. Their defense allowed them to get within two early in the third quarter, but the Tigers pulled away late, stretching their lead to as many as 12 in the final minutes.
Sophomore Jack Dale led THS in overall scoring, averaging 10.7 points per game. His 17 points against Eudora were the top Chieftain individual effort. Senior Ben Johnson was the team's top rebounder, pulling down seven boards per contest. The Chieftains had no selections to the all-tournament team.
Eudora went on to win the tournament, defeating Frontier League rival De Soto in the finals, 55-49. Blue Valley Southwest beat Jeff West in the third-place game, 52-34. Because of the seven-team format, there was no seventh-place game.
THS will get another shot at Atchison when it hosts a non-league meeting Friday. The game will begin immediately following the girls contest, which is set for 5:45 p.m.
"We've got to learn to make sure we're all on the same page, and our execution has got to be better," said Phillips, whose team shot less than 35 percent in the tournament. "Hopefully, shots will start falling before too long. The game gets a whole lot easier when the ball goes in the hole. During this tournament, unfortunately, we just struggled to score points."