Chieftain wrestlers take ninth at Sadowski Invitational
Huseman now ranked No. 1 in 4A poll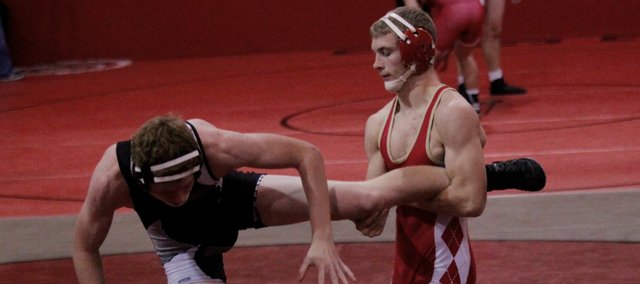 The Tonganoxie High wrestling team was short-staffed over the weekend in Holton, but still managed to bring home some hardware in the individual ranks.
Four Chieftains earned top-four finishes in their respective weight classes at THS took ninth at the Gerald Sadowski Memorial Invitational. THS went open at a season-high five weight classes as several regular starters continue to battle various injuries and illnesses.
"It's one of those times in the year where the kids who have been wrestling have got to be ready when it's go time," coach Jeremy Goebel said. "The ones who are trying to heal up and get to feeling better, we've got to get those guys ready to go as well. It's just a grind, and you've got to embrace it."
Clayton Himpel, currently ranked No. 3 in the Class 4A poll at 132 pounds, was the only Chieftain to reach the finals over the weekend. He opened with back-to-back wins before falling to No. 2 Jonah Lutz of Holton in the championship round. Asher Huseman took third at 152 pounds with his only loss coming in the semifinals to the state's top-ranked 3A wrestler in Rossville's Tagen Lambotte. Huseman rebounded with a 20-3 win against Onaga's Andrew Beck in the third-place match. He now sits atop his weight class in the 4A poll for the first time this season.
Joe Wolf (160) and Luke Carey (195) each took fourth. Wolf reached the third place match, but had reached his match limit and lost a coin toss with Osawatomie's Andy Blanton. Meanwhile, Carey went 3-2, winning three straight after he dropped his first match of the day. He dropped a 16-11 decision to Lansing's Caleb Ward in the third-place match.
THS struggled to find points elsewhere, as its remaining wrestlers went a combined 1-11.
"One thing we talked about was getting some backside help," Goebel said. "We've got to start winning some matches on the backside. The guys coming out the front door, they've been doing it week in and week out, but we've got to be able to come out the back door and score some team points."
As a team, the Chieftains finished with 79.5 points. Host school and reigning 4A state champion Holton won the tournament with 231.5 points.
THS will be back on the mat Thursday when it travels to Basehor-Linwood for a Kaw Valley League dual. Action will begin at 6 p.m. with 12 kids club matches.