Chieftains fall in dual at Basehor-Linwood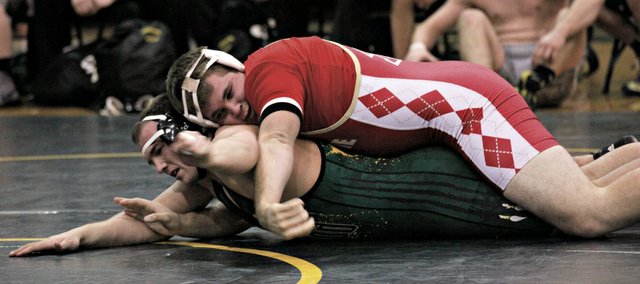 As January turns to February, injuries and illness often take their toll on high school wrestling teams across the state. Such was the case Thursday in Tonganoxie's dual at Kaw Valley League rival Basehor-Linwood, and it had a big impact on the final score.
The Chieftains went a combined 4-4 against the Bobcats, but couldn't overcome five open spots in a 42-20 loss.
"Coming in with five open weights, it could have been worse," coach Jeremy Goebel said. "It's one of those things where we've got to continually get over that hump. Our conditioning was there, so if we go six minutes and put ourselves in a good position, we're going to have an opportunity."
Vacancies gave each team an early default win, and neither squad had a wrestler at 113 pounds, so the first match took place at 126. Jay Willcutt moved up from his usual spot at 120 and earned a 4-2 win against Basehor-Linwood's Rylan Hawthorne, then Clayton Himpel (132) won by technical fall against Tucker Rowland to give THS a 14-9 lead. Himpel's victory was the 137th of his career, leaving him just four shy of the THS career record.
The Bobcats answered with back-to-back wins at 138 and 145. Asher Huseman (152) earned an 8-3 win against John Hopper to briefly put the Chieftains back in front, 17-15, but BLHS took the lead for good when Cory McCleary pinned Joe Wolf in the 160-pound match.
THS was open at 170 and 182, giving the Bobcats and insurmountable 33-17 advantage. Basehor-Linwood's Zack Carter (195) earned the final BLHS win of the night when he avenged a Bobcat Classic loss to Luke Carey with a 7-3 victory.
"The minute we stop scoring, they're scoring. You could see it in a couple of those matches," Goebel said. "We've got to keep practicing nonstop, hands-on. If we weather the storm for six minutes, we're going to be able to come out on top."
Zeke Kissinger (220) closed out the Chieftains' night with a 7-0 win against Jake Phillips. As it has all season, THS was open at 285.
Goebel's squad will see the Bobcats again Saturday at the Baldwin Invitational. The tournament will serve as somewhat of a Class 4A regional preview for both teams, as eight of the 15 teams in their regional field will be on hand.
"That's going to help a lot in terms of trying to see where we're at come postseason time," Goebel said. "It's going to give us a good look in that manner."
Basehor-Linwood 42, Tonganoxie 20
106 — Cameron Cash (TON) won by default
113 — Open
120 — Corbin Nirshcl (BL) won by default
126 — Jay Willcutt (TON) def. Rylan Hawthorne (BL), 4-2
132 — Clayton Himpel (TON) def. Tucker Rowland (BL), 15-0
138 — Justin Phillips (BL) def. Garrett Martin (TON), 9-6
145 — Josh Summers (BL) pinned Heath Martin (TON), :54
152 — Asher Huseman (TON) def. John Hopper (BL), 8-3
160 — Cory McCleary (BL) pinned Joe Wolf (TON), 3:56
170 — Stephen Struzzo (BL) won by default
182 — Zach Holtgrewe (BL) won by default
195 — Zack Carter (BL) def. Luke Carey (TON), 7-3
220 — Zeke Kissinger (TON) def. Jake Phillips (BL), 7-0
285 — Cullen Povilonous (BL) won by default