Ingle-Maxwell signs with Hutchinson
CC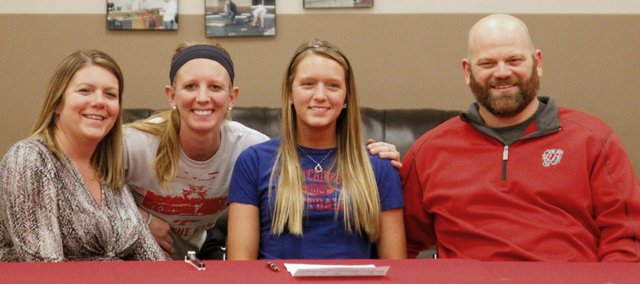 Last spring, Caly Ingle-Maxwell helped the Tonganoxie High softball team to its best first winning season in six years. She has one more season to help the Chieftains build on that success, but her career on the diamond is far from over.
With friends and family watching Wednesday in the THS Chieftain Room, Ingle-Maxwell signed a national letter of intent to play for Hutchinson Community College.
"We always love this day for our students because it shows accomplishment, and they get to see where their future is going," THS athletics director Brandon Parker said. "For Caly, she's spent a lot of time with the Tonganoxie softball program, and also in the offseason. There's been an investment, not only from her, but from her family."
Ingle-Maxwell finished at or near the top of several categories in her junior season. She hit .421 in 19 games and led the Chieftains with 15 runs batted in and 21 runs scored. THS went 11-8 in 2013 — its first mark above .500 since the 2007 squad went 8-6.
A mainstay at shortstop each of the last two years, Ingle-Maxwell was one of six players to start in every game last season. Second-year varsity coach Stephanie Wittman said she expects similar production from Ingle-Maxwell as a senior.
"I'm really privileged to coach her for one more season," Wittman said. "She sets a really good example for all the young girls that we have come watch our games. If I have girls at short stop who I want to watch somebody, I'm saying to watch her. She does it right."
Ingle-Maxwell, who also plays competitively for the Lawrence Thunder during the offseason, began communicating with HCC assistant coach Ben Whitsitt, who spent part of his youth in Tonganoxie and still has several local ties, as an underclassman.
"It feels really good," Ingle-Maxwell said. "I knew (Whitsitt) for two years. We kind of started talking at a showcase, and after that, we continued texting. I went to a college visit, and I was ready."
The Blue Dragons went an even 22-22 last season under head coach Jaime Rose. They'll open their 2014 season Feb. 11 in Enid, Okla. Meanwhile, the Chieftains will start their 2014 campaign March 27 with a home doubleheader against Bishop Ward.
"I'm super excited for this season," Ingle-Maxwell said. "It's my senior season, so I just want everyone to play every game like it's their last."