Chieftain wrestlers travel to
UNK

for camp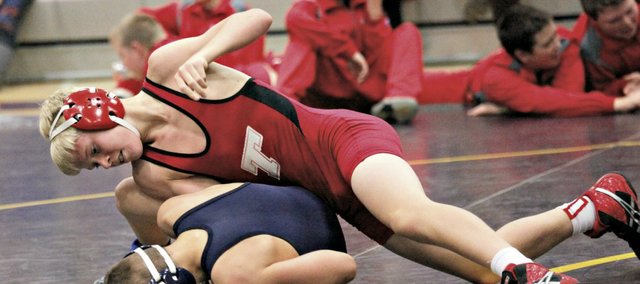 Tonganoxie High wrestlers saw their first live competition under new coach Ross Starcher last week, and they did so across state lines.
The Chieftains made yet another trip north for a three-day team camp hosted by the University of Nebraska-Kearney. THS sent 12 wrestlers to the camp, but because of injuries, only 10 competed.
THS, which didn't have a wrestler at any weight class above 160 pounds, failed to post a winning record in dual competition, but the Chieftains went a combined 55-34 individually.
"We didn't match up well with a lot of teams," Starcher said. "You can't really look at the team aspect of it because we didn't pair up very well, but our overall record was pretty good."
The tournament field was broken into two pools. Six THS participants are incoming freshmen, so Starcher said trip provided a sneak peek of what the high school season will be like.
"It's opened their eyes," he said. "They're wrestling high school kids and beating them, so that gives them a lot of confidence going into the season.
Following the tournament, incoming freshman Zeb Huseman received the team's "Legitimate Tough Guy" award.
The team won't have any other organized activities this summer, but Starcher will continue to have open mat sessions through July. He said he hopes wrestlers — particularly those who don't play other sports — will utilize the opportunity to better themselves before the season begins this winter.