Face to Face: Tonganoxie Recreation Commission Director Gayle Parker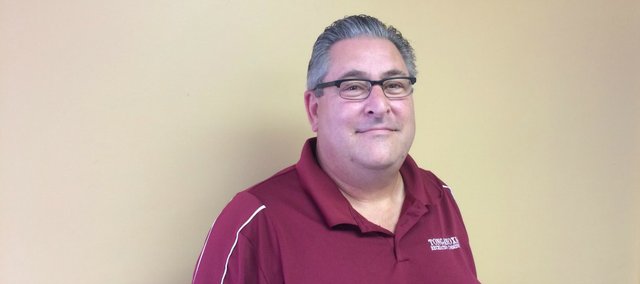 Name: Gayle Parker
Born: Fredonia.
Family: Wife, Chris; son, Dillon, of Houston; dog, Jay (short for Jayhawk), a yellow Labrador.
Occupation: Tonganoxie Recreation Commission director.
Dream job as a child: Dentist.
Digging deeper: Parker seriously considered dentistry, but during the second semester of his sophomore year at Emporia State University, he gravitated toward parks and recreation.
"I've always been involved in that type of thing growing up," Parker said. "It was either that or a teacher. I just felt like parks and rec was my calling."
A 1977 ESU graduate, Parker interned at United Methodist Youthville, a campus setting for emotionally disturbed children in Newton. He later became its activities director. He then was sports director for Newton Recreation Commission and later recreation director for the city of El Dorado. Parker changed careers and worked for five years selling insurance and securities for New York Life. He returned to parks and recreation when he became Tonganoxie's director in November 2003.
"I've had two good assistants," Parker said. "Paula Bollinger and then of course Brad (Eccles) have been instrumental for getting the non-sports type programs started for all ages."
Parker has seen the department's offering grow in the last decade, estimating program offerings have doubled or possibly even tripled in that time. Since Parker came to Tonganoxie, the commission has added a shelter house at Chieftain Park and new ball fields and expanded parking at the Leavenworth County Fairgrounds. Parker said it's hoped that TRC will add concessions and bathrooms at the newest ballfields to the north.
Parker, who turns 60 in December, said he used to whitewater raft and golf, but the former is a little too dangerous and the latter — not his strongsuit.
"I used to play golf until I figured out I wasn't any good," Parker said.
These days, the TRC director spends spare time watching and attending Kansas University athletics events. He's had KU football season tickets for several years.