Tonganoxie City Council selects firm to improve
U.S.

24-40 intersection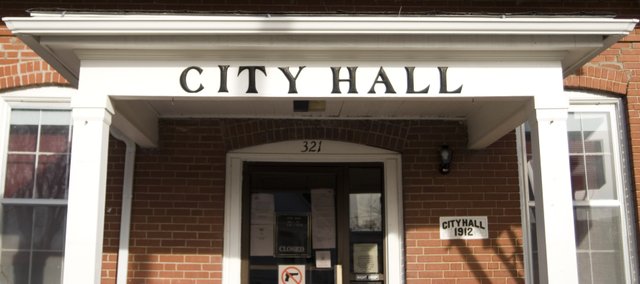 The Tonganoxie City Council has selected a company to build the city's next traffic signal.
The council approved, 4-0, the low bid of $414,365 from Wildcat Concrete Services of Topeka. Mayor Jason Ward and council member Chris Donnelly were absent.
The company will improve the intersection and install traffic signals at U.S. Highway 24-40 and Stone Creek Drive/South Park. Blinking warning lights, similar to those on U.S. 24-40 in Basehor, also will be installed east and west of the intersection.
Jason Hoskinson with BG Consultants, the city's engineering firm, said bids came in higher than the estimated $345,512.
He said the bids possibly were higher than anticipated because the Kansas Department of Transportation requested additional work be done on the U.S. 24-40 median.
Hoskinson said there also was a higher volume of transportation-related construction work in northeast Kansas this year, which could have contributed to the fewer bids and higher estimates.
KDOT's agreement with the city previously called for KDOT to cover $300,000 of expenses, with the city, which had budgeted for $100,000, covering the rest. In light of the bids, KDOT agreed to increase its maxiumum reimbursement to $400,000. The city will be responsible for the remaining expenses.
Hoskinson told council members they also could reject the bids and re-open the bidding later in hopes of getting lower bids, but the council opted to not delay the project further and voted unanimously for Wildcat Concrete's low bid.
Construction is expected to begin in August and likely take two months, weather permitting, Hoskinson said.
The council initially decided to put the signal at that intersection in April 2013 after several months of meetings, including a town hall meeting at the Tonganoxie Performing Arts Center where council member Jim Truesdell made the motion to pursue the signal at U.S. 24-40 and Stone Creek Drive/South Park instead of U.S. 24-40 and Laming Road, which was KDOT's preference and came with substantial KDOT funding if it were selected.
But several residents voiced concerns that Stone Creek Drive/South Park was the more dangerous intersection. KDOT's traffic configuration with the Laming Road option included a frontage road that would have been built south of U.S. 24-40 to connect South Park and Laming Road. That plan also raised concerns about business owners in the Stone Creek retail center. They said the configuration would have greatly hindered business.
Some residents said they would help pay for the intersection improvements if they were done at U.S. 24-40 and Stone Creek Drive/South Park. Council member Andy Gilner reminded his fellow council members of those pledges.
"All those people who said they would give money at the public meeting, they can still give money," Gilner said.
Washington Street sidewalk work continues
City Administrator Nathan McCommon updated the council on sidewalk work that will connect Genesis Christian Academy to Tonganoxie Middle School with a continuous walkway.
City crews have been installing the sidewalk, which nearly is complete.
Council members praised the sidewalk work, as did McCommon. City employee Doug Bennett has a background in concrete work. McCommon said Bennett's expertise was crucial.
"I want to express my appreciation to city crews for all their hard work on that," council member Kara Reed said. "It's been a long time coming on that."
Interlocal agreement remains
Tonganoxie and Leavenworth County won't have changes in their interlocal road agreement.
McCommon said the county has decided to leave the agreement as is.
County Commissioner Dennis Bixby spoke to the council at a recent meeting about possibly changing the agreement with regard to stretches of Washington Street, County Road 5 and Laming Road within the city limits.
Bixby said the county could take over maintenance of Laming Road near the county annex. In exchange, under Bixby's scenario, the city would take over a stretch of Washington Street, as well as County Road 5 from the U.S. 24-40 overpass south into Tonganoxie.
Bixby cited other road projects the county could be addressing, as well as liability concerns along County Road 5, as reasons to alter the agreement.
He said the new Chieftain Trail expansion that runs along CR 5 was built close to the road and that he had seen vehicles in recent weeks driving off the road. But the council questioned why that would have a bearing. City Attorney Mike Kelly also noted there likely wouldn't be liability issues if there were an accident involving a pedestrian and a vehicle. City officials have said the sidewalk meets state regulations in its distance from the road.
The new Washington Street sidewalk also is in close proximity to the road. Bixby has been vocal about that sidewalk needing to be built for enhanced student safety.
Council denies request to waive fees
Resident David Dunham asked the city to waive sewer fees he incurred since starting service in May 2012.
Dunham said he's dealt with sewer issues since buying the property at 707 River St., which is the former Sacred Heart Catholic Church.
He said he discovered that the property's line wasn't actually tapped into the city's line, that someone else had pirated the line, making his line useless.
Dunham has since had the sewer line fixed, but asked the city to waive sewer fees because he wasn't actually using the service during the last two years. He asked for nearly $640 in reimbursement or credit on future utility bills, but the council denied the request, 4-0.
There were 39 feet of sewer line from the former church, which Dunham has used as a residence. He said the sewage had built up in that portion of the line over time, unbeknownst to him.
"I'm a simple man," Dunham said. "I'm not asking for the moon and stars for crying out loud."
Dunham said he had "big plans" for the former church, but didn't divulge any of them.
Kelly said the issues fell outside of the city's responsibilities, per current code.