Tonganoxie
USD

464 board votes Baragary as 2014-15 president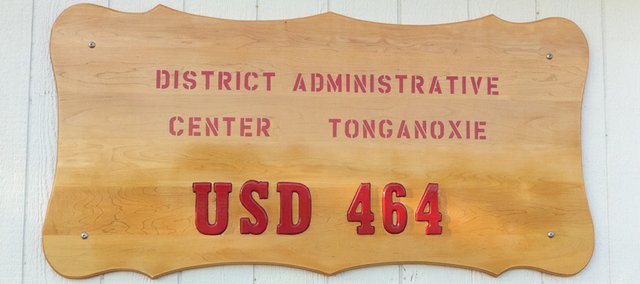 The Tonganoxie USD 464 school board voted Kathy Baragary as its board president for the 2014-15 school year.
Baragary, who previously was vice president, replaced Kris Grinter as president during Monday's regular meeting. Dan Hopkins was voted in as vice president. Hopkins was not in attendance at Monday's meeting.
Transportation finance approved
The board selected First State Bank and Trust for financing of four new 28-passenger buses at just less than $196,000. First State had the lowest interest rate — 1.5 percent fixed interest through five years — among six bids.
The board also approved a new F-250 and F-150 from Laird Noller Ford. The two trucks, both four-wheel drive, totaled almost $49,700. The trucks are in addition to the purchase of four vans the board previously approved. Total purchase price with the trucks' addition is about $152,000. First State also lowered the interest rate to 1.5 percent for three years on the vehicles.
Bill Seymour with facilities and grounds will drive one of the trucks, while the second will be for general use in the district.
Budget meetings scheduled
The board will meet at 6 p.m. Aug. 4 in the Tonganoxie High School library to approve its 2015 budget and will have its budget hearing during a 6 p.m. Aug. 18 meeting at the Tonganoxie Middle School library.
Elementary school update
Superintendent Lyn Ratz said she was planning for the board to tour the new elementary school site during its Aug. 18 meeting. The board had planned to tour the site during two previous meetings, but rain washed out those plans.
Ratz said construction is on schedule. The school is expected to be finished next May.
The board also got a glimpse of plans for each grade level area. Each will have a theme highlighting various state animals.
Current plans call for a sunflower theme inviting people into that area of the building. First grade will have the honey bee, second grade the western meadowlark, third the barred tiger salamander, fourth the ornate box turtle and fifth the bison.
Board approves hires, resignations
Board members approved several hires at Monday's meeting: Molly Athon, seventh-grade assistant volleyball coach; Bill Benson, computer technician; Emily Crady, eighth-grade head volleyball coach; Paige Deathe, seventh-grade head volleyball coach and fifth/sixth grade student council sponsor; Susan Eberth, middle school special education para-professional; Pamela Meador, early childhood special education teacher; Keith Miller, middle school assistant track coach, eighth-grade assistant football coach; Susan Neverve, middle school special education teacher; Doug Sandburg, high school head golf coach; Kelly Werner, high school business/technology teacher, Future Business Leaders of America sponsor; and Drew Williams, seventh-grade assistant football coach and seventh-grade boys head basketball coach.
Resignations were accepted for Garret Black, seventh-grade assistant football coach; Forrest Creager, computer technician; Jesse Leigh, seventh-grade boys head basketball coach; Ann Smith, pre-kindergarten special education teacher; and Robin Vaughan, TMS special education para.