Basehor Dairy Days focusing on local community, history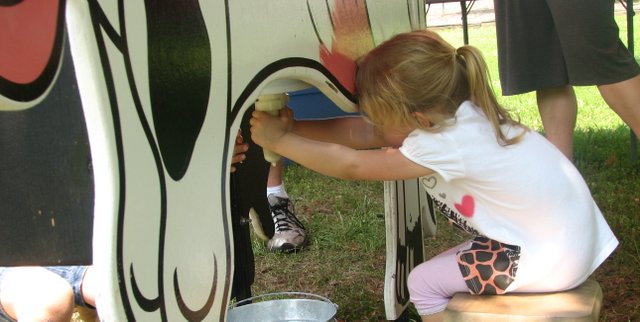 Schedule of events
• 7:30 a.m., Crazy Cow 5k Run/Walk
• 7:30 -10:30 a.m., Chris Cakes Pancake Breakfast
• 9 a.m., Leukemia and Lymphoma Society .1k Run
• 10-11 a.m., White Tiger Martial Arts performance
• 11 a.m., Gunsmoke & Petticoats Old West Show
• Noon, Sarah's Studio of Dance performance
• Noon, Friends of the Library Pie Baking Contest
• 1 p.m., Gunsmoke & Petticoats Old West Show
• 1:30 - 3:30 p.m., The Fairmounters
• 3 p.m., Gunsmoke & Petticoats Old West Show
Basehor — The dancing cows have sprung up all over town which means only one thing: Basehor Dairy Days is near.
This year, the ninth annual Basehor Dairy Days will feature family favorites, new events and the revival of the Crazy Cow 5k race and walk. The long list of activities, new or familiar, are all meant to give local residents a festival to enjoy in their own backyard, said the event's organizer, Lila White.
"It's something for the people, for them to have their own festival here in Basehor," White said.
Dairy Days, which honors Basehor's roots as a dairy farming community, kicks of at 7:30 a.m. Saturday at Basehor City Park with the return of the Crazy Cow 5k run and walk. Basehor Dairy Days Association and the Basehor Chamber of Commerce have teamed up to bring the 5K event back to Dairy Days and the money raised from the run and walk will go back to the Dairy Days Association for future events. The race will begin at the city park and will head northeast to Meyer Drive before looping back to the park.
Registration for the race is $35 for adults and $15 for children and teens. To register, contact Ashley Razak at 913-972-1428 or email basehordairydays@yahoo.com. Razak said Monday that more than 60 people had already signed up for the race and about 20 more were expected to sign up Saturday. Included in the registration fee are passes to Chris Cakes Pancake Breakfast from 7:30 to 10:30 a.m.
"We're really looking forward to it," Razak said. "As long as the weather holds out, it looks to be a great event."
The most recent 5k at Basehor Dairy Days was held in 2011.
Returning for a second consecutive year is the Friends of the Library Pie Baking Contest.
"People were very excited to hear that the pie baking contest was back," White said.
The contest begins at noon. Homemade pies may be entered in the pie baking contest before June 7 for $5. Registry on the day of the event is $7. Funds raised will support children's programming at the Basehor Community Library. Entry forms will be available this week at the library.
Following the pie baking contest will be a performance by the bluegrass band The Fairmounters from 1:30 to 3:30 p.m. White said the Fairmounters are returning "by popular demand" as they have played at the festival for the past five years.
Like past years, there will be three performances by the Gunsmoke & Petticoats Old West Show at 11 a.m., 1 p.m. and 3 p.m. Traditional highlights also include a cow milking machine, petting zoo, food and craft vendors, pony rides, milk cans on parade, face painting and carnival games.
New this year is a .1k run and walk, about 328 feet, to raise money for the Leukemia and Lymphoma Society of Kansas City. Registration is $29 per person as a team, or $32 as an individual. Rebeckah Wells, a spokeswoman for the Leukemia and Lymphoma Society of Kansas City, said local fundraisers like the one this Saturday help raise money for research and aid for current patients. The group has donated $6 million to Kansas and Missouri over the past five years.
"It's really just a great way for people to show their love and support for someone who has been touched by cancer," Wells said.
Dairy Days is put on for the people of Basehor by the people of Basehor, White stressed this week. She said it takes year-round planning by many different organizations, all on volunteer hours.
"We couldn't do it without the volunteers," White said. "I can't say enough about our volunteers. We meet year round, but this time of year we really put a lot of hours in. It's the volunteers that make the festival and this year is going to be a special one."