Face to Face: Tonganoxie High School athletic trainer Mark Padfield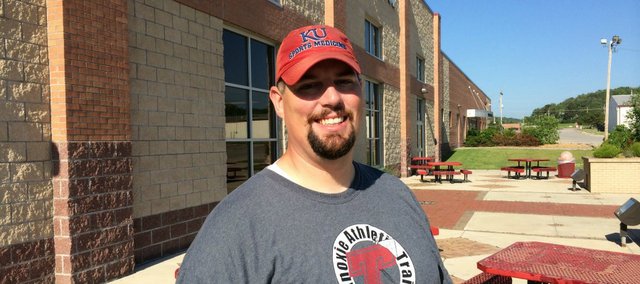 Name: Mark Padfield
Born: Garnett
Family: Wife, Rachel; daughters, Sydney and Aubrey
Occupation: Teacher, athletic trainer
Dream job as child: Pirate astronaut fireman — one job, no commas.
Digging deeper: Padfield is a former college athlete who said he hasn't quite figured out that he's out of shape and middle-aged.
Padfield competed in shot put, discus and hammer throw on the Kansas State University track and field team. He also competed in meets in Germany, Austria and Switzerland.
His coach, Steve Fritz, was an Olympic decathlete, while teammate Ed Broxterman competed in the 1996 Olympics in high jump. Another teammate, Gwen Wentland-Mikinski, is the current high jump coach for the U.S. track team.
As athletic trainer, Padfield stays busy during school months attending Tonganoxie High School athletics events.
"Good thing my family likes watching sports, or I'd never see them," Padfield joked.
He becomes president of the Kansas Athletic Trainers' Society on Jan. 1, 2015. It's an organization in which he's been involved since 2008.
"I'm excited about the challenge," Padfield said about becoming the group's president.
As part of his responsibilities in the organization, Padfield goes to Washington, D.C., to lobby for various athletic training legislation. Padfield helped with a successful push two years ago in the Kansas Legislature for improved player safety laws.
He will lead an EMS seminar in August at THS and is "very excited" to be offering an athletic training course at THS in the coming school year. Padfield said the course has garnered substantial interest.
Mark and Rachel both teach in the Tonganoxie school district.
"It's nice that Rachel and I have the summer to hang out with our kids to make up for all the hours away from them during the school year," Padfield said. "But it is easy to tell when the calendar switches to August — we are ready to not be around each other quite so much.
"I'm sure when my daughters are teenagers that might switch to July."