Heavy metal guitarist joins with Tonganoxie monster truck giants for wild ride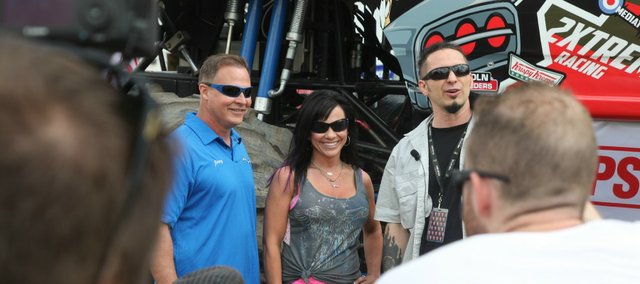 By the numbers
Here's a look at some 2Xtreme Racing monster truck numbers:
• 16,000: Number of horsepower in each truck.
• 10,000: Weight, in pounds, of each truck.
• 800: Weight, in pounds, of each tire.
• 2,000: Cost, in dollars, of each tire.
• 5: Number of years a tire can last, though it also can be ruined in as quickly as one show.
Source: 2Xtreme Racing team
Monster truck driver Trent Montgomery went flying over some junk vehicles in the Iron Outlaw truck Saturday on a course a few miles south of Tonganoxie.
Montgomery finished his freestyle show and got down from the truck.
Zoltan Bathory was there to greet him.
"No problem," the Hungarian-born Bathory said nonchalantly, as if he could replicate Montgomery's moves.
Bathory was all smiles Saturday. A bit of a thrill seeker, the guitarist for Five Finger Death Punch has piloted a jet and now is a martial artist. Those items were two of many on his bucket list. Also on that list: Drive a monster truck.
Saturday, the rock star accomplished that goal, tearing around a course in rural Tonganoxie that came together in a matter of a few days.
Bathory operated a monster truck thanks to 2Xtreme Racing, a family owned and operated monster truck team based out of Tonganoxie. Owners Jimmy and Dawn Creten long have been known for their performances on the monster truck circuit. Montgomery even is the current Monster Jam Arena Wheelie Champion of the Year.
The 2Xtreme racing team does about 60 shows a year but didn't participate in any last weekend. Jimmy Creten said he "shut everything down" last weekend and had the teams home so they could be hosts for Bathory.
Heavy metal and monster trucks
The idea to unite a metal guitarist with monster trucks in Kansas actually was born in Sweden.
Bathory was playing a show there when Chris Kurtz of Mediatwist talked to him about getting behind the wheel of a monster truck.
Kurtz previously worked with 2Xtreme Racing team member Todd Morey when Kurtz was a production manager and Morey an announcer for Monster Jam events.
Last weekend, the opportunity finally presented itself.
Bathory happened to be playing at Rockfest at the Liberty Memorial in Kansas City, Mo.
2Xtreme Racing custom built identical monster trucks with a design that incorporated Knucklehead, the mascot of Five Finger Death Punch.
Simpson racing gear also fitted Bathory for a fireproof suit and state-of-the-art helmet that he wore Saturday.
"Is it waterproof, because there's a lake," Bathory joked.
The roughly 1-acre course sat just north of a large pond on the Cretens' property.
"I'll have guys bring the boat on this side of the lake just in case," Jimmy joked.
Some family and friends even were on hand to catch the impromptu monster truck "show."
Krispy Kreme doughnuts and VP Racing Fuels joined Simpson with signage either under a white tent where everyone congregated or at various spots on the course.
Members of the Kansas City Thunderbirds remote controlled helicopter club even brought in drones with cameras that captured the action from varying angles.
Readying the course
The 2Xreme Racing course had a much different look last week. Tree-filled land needed some major landscaping to become a course.
After trees were knocked down, junk cars, trucks and even an old school bus was incorporated into the course.
When Bathory first caught a glimpse of the course and the monster truck, he was ready to try everything out.
"This is like Christmas came early," he said.
Bathory got instruction from Jimmy and others on how to handle the course. By lunchtime, he was jumping over vehicles with the Knucklehead truck.
Five Finger Death Punch formed in 2005 in Las Vegas with Bathory a founding member. The band's Facebook page has more than 4 million "likes," while Bathory's official page has more than 46,000.
Bathory said the band has a strong following in this area. What's more, teaming up with a monster truck team makes sense because they share a similar fan base.
"It's a match made in heaven," Bathory said.
The guitarist said he appreciates the fan's support and finds that some of his bucket list items serve as inspiration to fans.
"In the '80s, metal bands chased girls, got drunk and got high," Bathory said, noting that's not necessarily the case for present bands. "This generation doesn't connect with that."
Saturday night, the 2Xtreme Racing crew and friends attended Rockfest to hear Bathory perform with his band.
Morey said they were even invited on stage.
That's fitting though, if one asks Bathory.
"To me, he's the rock star," Bathory said of Jimmy.