Sandburg finishes second at state golf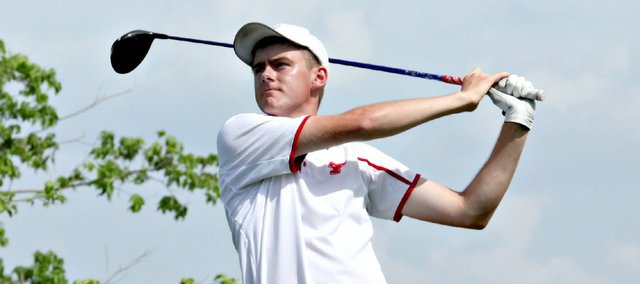 Just two holes into his final high school golf tournament, Drew Sandburg could have given up.
Poor tee shots on No. 1 and 2 left the Tonganoxie High senior at three-over par, all but ending his hopes for a state title. But, rather than fade into the crowd, the four-time state qualifier more than rose to the occasion.
Sandburg caught fire after the rocky start, finishing at an even-par 72, good for second place at the Class 4A state tournament May 27 at Firekeeper Golf Course in Mayetta.
The only Chieftain to make the state cut, Sandburg got off to a less-than-favorable start to his fourth and final state appearance, but started to turn things around with a birdie on No. 3. He continued to heat up, going four-under over the next 14 holes to put himself in contention for a gold medal entering the final hole.
"He really showed the type of player he's been all year," THS coach Jared Jackson said. "He finally settled down and made some really good shots."
Sandburg entered No. 18 at two-under par — one stroke behind Bonner Springs senior Marc McClain — but hit a snag when his tee shot failed to clear a hazard on the par-four hole. After taking a drop, he shot into some high grass, where Jackson said the ball was barely visible. Rather than taking another drop, Sandburg elected to hit his way out of the predicament. The ball landed in the rough about 75 yards from the hole, leaving him in a potential do-or-die situation.
His next shot, which he called "the best shot of the day," stuck two feet from the pin, and he putted in for a double bogey.
"After I hit my third shot (after the drop), all I was thinking the whole time was 'you've got to get it out and two-putt,' but I got on and one-putted to save even par," Sandburg said.
McClain bogeyed the hole, giving him the individual title with a three-under par 69, but Sandburg's shot saved him from a potential playoff for second place. Three golfers finished in a tie for third with scores of 74.
Sandburg and McClain have jockeyed for rank in recent weeks. Sandburg beat out McClain for a Kaw Valley League title on May 12, then McClain finished one spot ahead of Sandburg at regionals a week later. Given his lackluster start at state, Sandburg was far from disappointed with the runner-up finish behind his league rival.
"If you think about it, (the difference) was the last hole," he said. "I knew going in that I'd have to go low. I put myself in contention for it after the first two holes. I fell a little short, but second still feels good."
The second-place finish marks the end of one of the most decorated careers in THS golf history. Sandburg won two event titles in 2014 and graduates as one of just two four-time state qualifiers, joining 2012 grad Colby Yates. He helped the Chieftains to second-place team finishes at state in 2011 and 2012 before placing seventh individually at last year's meet.
"He's been such an important part of our program," Jackson said. "He was playing as a team contributor his first two years, and he's kind of built on that as an individual qualifier in the last two years. Even at the end when things didn't go well, he made the best out of it. That's what a four-year golfer does. It was good to see him come out and get the things he deserves."
Sandburg said he'll continue to play in tournaments through the summer. He plans to continue his career next season at Washburn University in Topeka.
Top 10 individual finishers
Marc McClain, Bonner Springs, 69; 2. Drew Sandburg, Tonganoxie, 72; 3. Gage Ihrig, Goodland, 74; 4. Ryan Elder, Wamego, 74; 5. Max Ernst, Bishop Miege, 74; 6. Alex Carro, Wichita-Trinity, 75; 7. Alec Wuellner, Piper, 75; 8. Brock Falley, Topeka-Hayden, 76; 9. Parker Waters, Wamego, 76; 10. Shane Walden, Iola, 76.